The Sustainable Development Goals in Somalia
The Sustainable Development Goals are a global call to action to end poverty, protect the earth's environment and climate, and ensure that people everywhere can enjoy peace and prosperity. These are the goals the UN is working on in Somalia:
Story
08 November 2022
Children access education for the first time in their lives at UNICEF supported schools in Somalia
Baidoa, Somalia:
The chorus of young voices rises in cadence, a sweet melody of six dozen children, singing the letters of the Somali alphabet – that they just mastered one week ago. Standing before the blackboard and leading this rustic symphony at the Mustaqbal Integrated Primary School is a shy 10-year-old girl named Farhia Abdi Moallim. "I am so happy to learn," says little Farhia, "I want to be a teacher when I grow big, so I can teach children in my village who cannot go to school." Her eyes twinkle with glee, radiant under the all-black abaya robe that covers her whole body, leaving only her face exposed, glowing like the hopeful and happy sun after a dark summer storm. This a hopeful beginning because all the children sitting on the benches behind her, had never seen the inside of a classroom until four weeks ago. An ongoing drought has ravaged Somalia for the last four years, drying water-wells, killing crops and livestock, and displacing more than a million people to urban centres like Baidoa in South-West Somalia; where they live in camps for internally displaced persons (IDPs), surviving just on humanitarian aid. This is on top of the 2 million people displaced by the conflict that has battered Somalia for more than three decades; and also includes IDPs from the famine of 2011 and the drought in 2017. All these factors have had devastating consequences for the children of Somalia. It heightens the learning crisis in a country with more than 3 million children who were not in school, even before the COVID-19 pandemic in 2020. Alongside other humanitarian interventions, UNICEF and education partners are working with the Ministry of Education to provide learning opportunities for children displaced by drought and conflict. UNICEF/Giri 13-year-old Abduwali says he knows all the alphabets. In another classrooms at the end of the same one-roofed structure, we meet 13-year-old Abduwali Derow Aden. He walked for two days with his parents and six siblings to Baidoa and has been attending Grade 1 since the school reopened six weeks ago. "I know all the alphabets now," he says proudly, a big smile on his face. "I like learning mathematics and I like my school." At the Mustaqbal Integrated Primary School, UNICEF is working with local partners to increase the capacity of the school to handle the influx of new children. UNICEF/Giri Principal Habiba says they will teach all the children who come to their school. "We have more than 1,500 students, and we are receiving 3 to 5 new students every day," says Habiba Ibrahim Aden, the Principal and one of the founding members of tiny primary school. Rows of boys and girls squat on the floor just outside the classrooms, a patient look on their faces. "These are children who have just arrived in the last week. Although we have no space, we cannot turn them away - we will teach them in shifts," she says. Established seven years ago, this school has expanded rapidly in the last two years, with children of IDPs who have converged on Baidoa to escape the conflict and drought. UNICEF is supporting the school through education partners to ensure that all children receive basic education. This support includes teacher training, provision of furniture and teaching materials, and financial incentives for teachers. With funding from the GPE Accelerated Learning Programme, UNICEF and World Food Programme (WFP) are also supporting a school feeding programme, whereby children receive two meals a day. UNICEF/Giri Fatuma says she likes learning about science. "I like my school and I want to learn," says 12-year-old Fatuma Noor, another girl in Grade 1. "I have made many friends here, and science is my favourite subject." To handle the large number of students, the schools operate in two shifts: one from 8:00 am to 12:00 pm, and the afternoon shift from 1:00 pm to 4:00 pm. Habiba the principal, says that none of the children leave school before the end of the school day. "The children enjoy coming to school, and thanks to our donors we provide them with meals, and they are more focussed in the classroom," says Habiba. As part of the response to the ongoing drought in Somalia, UN partners including UNICEF and other NGOs are accelerating delivery of humanitarian supplies and services including food and shelter, health, nutrition, and water and sanitation to mitigate the worst of this climate induced disaster. Providing these children an opportunity to learn is a major concern for UNICEF. Alongside the existing support from the Global Partnership for Education, UNICEF will also roll out an Education in Emergencies programme in Baidoa soon, specifically targeted at children of IDPs.
Link
to the original story.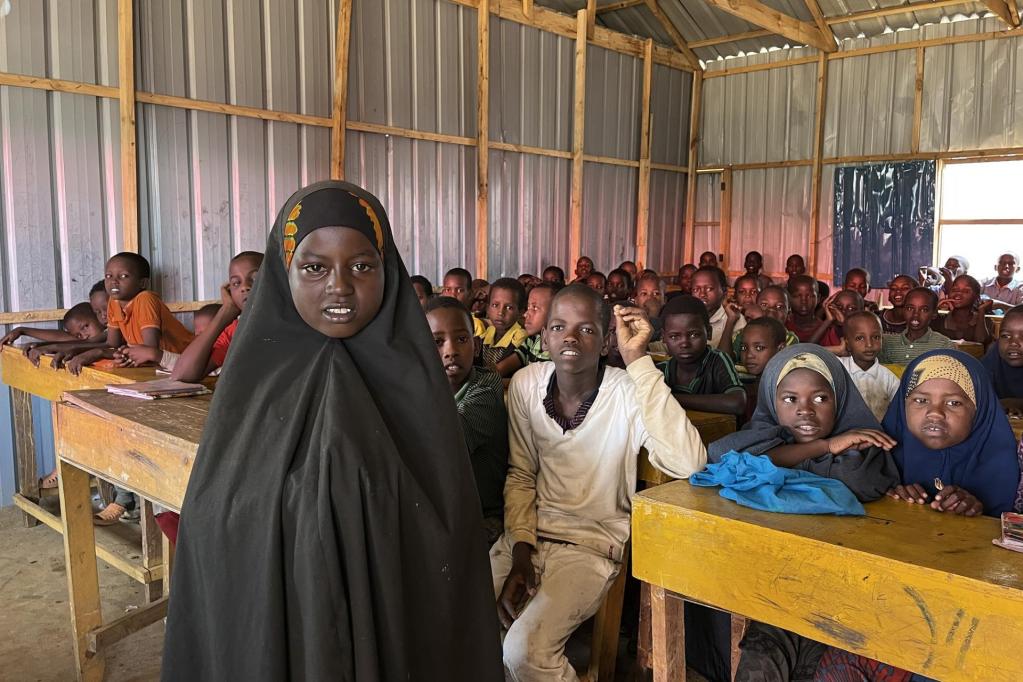 Story
23 December 2021
Somalia is on the path of recovery, but real challenges remain
I arrived in Somalia in September 2019, two decades after having worked here previously. I knew that I was taking up a challenging assignment, but I was also looking forward to seeing Somalia's progress. Afflicted by decades of conflict, recurrent climatic shocks, disease outbreaks and poverty, Somalia was often called a 'failed state.' The narrative is now changing, and although fragile, Somalia is on a path to stability and the resilience of the Somali people is second to none. That said, we are not under any illusion: significant challenges remain, and we must work even harder to preserve the gains made to date. Somalia's upward trajectory is evident in the construction boom, as one analyst noted -- the sound of the hammer is replacing the sound of gunfire in Somalia's capital. The UN has been closely supporting the Somali people since the birth of the Republic in 1960. Currently, the UN's various mandates are implemented through 26  Agencies, Funds and Programmes (both resident and non-resident), one political mission (
UNSOM
) and one logistical support mission (
UNSOS
). The UN's commitment towards the Somali cause is articulated in detail in the UN Sustainable Development Cooperation Framework (
UNSDCF 2021-2025
), mirroring the priorities of Somalia's Ninth National Development Plan (
NDP-9
). At the height of the COVID-19 pandemic, the UN marshalled support to help the Somali government respond to the virus outbreak. We continue to support the Somali authorities in seeking to defeat this pandemic and encouraging people to get vaccinated. Elections are also on-going in Somalia. The UN is supporting the process to ensure that elections are held in a peaceful and transparent manner, while at the same time advocating for 30 per cent women's quota in the Somali legislature. While these are encouraging signs of progress, we must not forget Somalia's long-standing challenges. According to UN's projections for next year, an estimated 7.7 million Somalis (nearly half of the country's population) will require humanitarian assistance and protection. Women and children continue to bear the brunt of Somalia's complex humanitarian crises, especially among the internally displaced communities. In light of the current serious droughts, the Somali government declared a humanitarian state of emergency on 23 November. Yet, neither the government nor the humanitarian community has adequate resources to respond. With a few days remaining in the year, the 2021 Humanitarian Response Plan which seeks US$1.09 billion remains only 70 per cent funded. Additional resources are urgently needed to prevent the dire humanitarian situation from becoming a catastrophe, so we continue to engage partners on this subject. In this regard, I undertook missions to Europe in October and to the Gulf in September. Throughout my interactions with partners, I stressed the need for additional funding to address Somalia's escalating humanitarian crisis and elaborated on how inaction not only risks a reversal of the gains but puts the lives of millions of Somalis in jeopardy. Through my field visits in Somalia, I have also seen first-hand the grim realities of adverse climate conditions. Somalia is no doubt on the frontline of climate change. The recurrent droughts and floods are driving widespread displacement, rapid urbanization, hunger, malnutrition and poverty. Climate change is also increasingly seen as the driver of conflict and a threat to the country's security as the struggle over meagre resources deepens divisions. In addition, the loss of traditional livelihoods makes people vulnerable to recruitment by armed groups such as Al-Shabaab. Somalia is currently experiencing a third consecutive season of below-average rainfall, with nearly 80 per cent of the country experiencing drought conditions, water shortages and livestock deaths. One in five Somalis does not have enough water to cover his/her basic needs. On a positive note, as part of the efforts to mitigate the climate emergency, the government, with the support of the United Nations, has recently adopted an ambitious Nationally Determined Contribution to achieve global climate targets, in which Somalia committed to reduce its greenhouse gas emissions by 30 per cent by 2030. Somalia's crises are multifaceted, and they require comprehensive solutions from all stakeholders. It is our collective responsibility to support the efforts of the Somali people to cope with these crises and find lasting solutions that build resilience against future shocks. We must not fail the people we pledged to serve.
Adam Abdelmoula, Deputy Special Representative of the UN Secretary-General, Resident and Humanitarian Coordinator for Somalia, held a press conference on Monday, 20 December on the situation in Somalia, where the UN and partners is launching a nearly $1.5 billion Humanitarian Response Plan (HRP). Roughly 7.7 million people in the country will need assistance and protection in 2022, a 30 per cent rise in just one year.
Written by Adam Abdelmoula, Deputy Special Representative of the UN Secretary-General, Resident and Humanitarian Coordinator for Somalia