The Sustainable Development Goals in Somalia
The Sustainable Development Goals are a global call to action to end poverty, protect the earth's environment and climate, and ensure that people everywhere can enjoy peace and prosperity. These are the goals the UN is working on in Somalia:
Story
21 August 2022
Ahmed Hassan Wehlie: Combining a love for technology with peacebuilding
Mogadishu
- Ahmed Hassan Wehlie has always had a technological bent. He displayed his talent in this area early in life. At the age of 11, growing up in the Somali capital of Mogadishu, he would disassemble and reassemble the radio receiver in his family's home, sometimes to the exasperation of his parents. At the same time, they would appreciate his skills when a lamp went off due to a technical fault. Born in 1996, Mr. Wehlie ― also known as '
Ahmed Jubba
' ― was one of ten siblings. His parents had no connection to the technology sector. His father is a radiographer, and his mother a homemaker. This made little difference to the young Mr. Wehlie. As he got older, his enthusiasm for technology grew stronger and fused with a growing interest in helping his country. In Grade 11 at Jaabit Bin Hayan School, he noticed motivation in his class was going down. When he asked himself why, he realised that everyone in his class was fighting over notepads ― the options available in the local market were of poor quality, thin and expensive. Mr. Wehlie pondered the matter for some time before coming up with a solution involving his tech skills. Using Photoshop, he designed a thick, durable notebook cover that could be personalised. He then offered this solution to his classmates who leapt at the chance to have hard-wearing notepads with their own names printed on them. His classmates sourced the needed paper, and Mr. Wehlie completed the designs using his home printer. "I noticed that after everyone got a notebook with a similar design, my classmates felt more connected to each other and felt more like a group," says Mr. Wehlie, when looking back on that event, which was his first experience in coming up with a solution through technology. These steps combining tech and social harmony received a greater boost while he was in tertiary study. In 2019, when he was 23 years old and studying for a bachelor's degree in Information Technology from SIMAD University in Mogadishu, he had been on his way home from class when someone robbed him at gunpoint. The mugger appeared to be younger than Mr. Wehlie. "At that moment, I did not feel sorry for what I lost. Instead, I felt sorry for my country if boys of such a tender age need to wave a gun in someone's face," Mr. Wehlie recalls. "At that very moment, I decided I wanted to do something. I did not know what yet, but I knew I could not just graduate and focus on my life alone." The opportunity presented itself soon after his graduation in 2021. While looking for employment, Mr. Wehlie was offered the position of creative director with iRise Mogadishu Innovation Hub, the first innovation hub and co-working space in Somalia. A team of like-minded individuals founded it in 2016 on the premise of helping transform Somalia into a 'silicon valley' in the Horn of Africa. Headquartered in Mogadishu, iRise provides a space for Somali innovators, techies and aspiring entrepreneurs to share skills and ideas, as well opportunities for financing and partnering. After four months at iRise, Mr. Wehlie was promoted to communications team leader. His new role involved supervising all communication activities and overseeing efforts to develop strategies for better engagement.
New job, new path
But Mr. Wehlie also wanted to add another dimension to his work. While in iRise's offices, he frequently spoke about his dream of combining technological advances and education for the benefit of young Somalis to learn about subjects that were not part of official school curricula, such as how to sustain peace in Somalia through the application of technology and providing youth with mediation and negotiation skills. His employers liked what they heard. "The iRise team was receptive to my ideas and offered office space and their support for me to create a non-profit organisation. Initially, I brought one person on board, my friend Abdisalam Maalin, and established
Galka Nabadda
, a youth-led initiative promoting peacebuilding in Somalia through empowering and training youth from various backgrounds on mediation and negotiation skills," says Mr. Wehlie. "The root of our work is our dialogue with our 'community' on social media. They dictate the direction of Galka Nabadda's work. We don't use formal research, but we pose questions on social media and identify the areas of intervention based on the answers. "So far, we have conducted a workshop on countering hate speech and the role of media in peacebuilding. We are about to start a workshop for artists on music for peace. All our interventions are conducted in person, and participants are selected through a call for applications based on well-defined criteria. There are no nominations for our workshops," Mr. Wehlie adds. He is encouraged by the early feedback from participants in the 'role of media in peacebuilding' workshop. According to him, "In Somalia, most of the media workers are young. Often the journalists double as editors and have a say about the news agenda in their organisations. Those working with us attempt to include more news on constructive developments in the headlines to change the predominantly gloomy narratives." The young social entrepreneur highlights that the workshops are not an end in themselves. There is a 'community officer' at Galka Nabadda, a person designated to maintain networks or communities created through the workshops. This way, the participants continue sharing experiences and content where they have applied the new skills. "We want to create a community where everyone knows the importance of peace. We plan to train and empower young people in schools and universities across Somalia on topics they don't see much in classes, such as peace-building, negotiation tools and reconciliations," says Mr. Wehlie, who runs the non-profit group while also holding his regular job at iRise. Galka Nabadda is now operated by five staff and four volunteers in Mogadishu; it doesn't have regular funding and is supported by iRise and other enthusiasts of empowering young Somalis.
Mr. Wehlie
hopes to expand its reach beyond the capital and become more diverse in the composition of its membership, which is currently made up of four women and five men.
Somali youth
Somalia is one of the youngest countries in the world, with more than 4.6 million people between the ages of 15 and 35. According to the United Nations Department of Economic and Social Affairs (DESA), young people are often the leading innovators in use and spread of information and communications technologies. They adapt quickly and are hungry for the great quantities of information, locally and globally, that can be provided through emerging information and communication technologies. Improving young people's lives and enabling their active role in society ― online and offline ― is crucial to building sustainable peace and development in Somalia. Furthermore, young people are important drivers of change and accountability to advance the commitments of governments and the UN to the Sustainable Development Goals (SDGs) and the global Youth, Peace and Security Agenda (YPS).
The SDGs are a universal call to action to end poverty, protect the planet and improve the lives and prospects of everyone everywhere, and were adopted by all UN Member States in 2015 as part of the 2030 Agenda, which sets out a 15-year plan to achieve the SDGs. The YPS Agenda was adopted by the UN Security Council in 2015 and calls on all actors to strengthen young people's role and ensure their participation and protection in conflict resolution, peacebuilding and decision-making. International Youth Day is celebrated every year on 12 August. This year's theme is 'Intergenerational Solidarity: Creating a World for All Ages.' Read more about the UN's work on Youth Empowerment in Somalia
here
.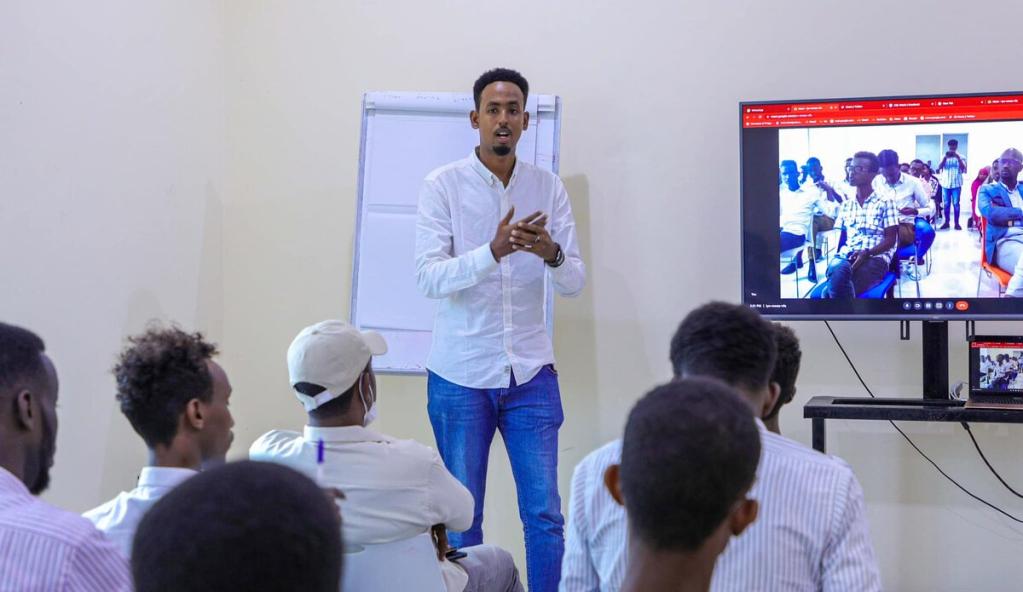 Story
23 December 2021
Somalia is on the path of recovery, but real challenges remain
I arrived in Somalia in September 2019, two decades after having worked here previously. I knew that I was taking up a challenging assignment, but I was also looking forward to seeing Somalia's progress. Afflicted by decades of conflict, recurrent climatic shocks, disease outbreaks and poverty, Somalia was often called a 'failed state.' The narrative is now changing, and although fragile, Somalia is on a path to stability and the resilience of the Somali people is second to none. That said, we are not under any illusion: significant challenges remain, and we must work even harder to preserve the gains made to date. Somalia's upward trajectory is evident in the construction boom, as one analyst noted -- the sound of the hammer is replacing the sound of gunfire in Somalia's capital. The UN has been closely supporting the Somali people since the birth of the Republic in 1960. Currently, the UN's various mandates are implemented through 26  Agencies, Funds and Programmes (both resident and non-resident), one political mission (
UNSOM
) and one logistical support mission (
UNSOS
). The UN's commitment towards the Somali cause is articulated in detail in the UN Sustainable Development Cooperation Framework (
UNSDCF 2021-2025
), mirroring the priorities of Somalia's Ninth National Development Plan (
NDP-9
). At the height of the COVID-19 pandemic, the UN marshalled support to help the Somali government respond to the virus outbreak. We continue to support the Somali authorities in seeking to defeat this pandemic and encouraging people to get vaccinated. Elections are also on-going in Somalia. The UN is supporting the process to ensure that elections are held in a peaceful and transparent manner, while at the same time advocating for 30 per cent women's quota in the Somali legislature. While these are encouraging signs of progress, we must not forget Somalia's long-standing challenges. According to UN's projections for next year, an estimated 7.7 million Somalis (nearly half of the country's population) will require humanitarian assistance and protection. Women and children continue to bear the brunt of Somalia's complex humanitarian crises, especially among the internally displaced communities. In light of the current serious droughts, the Somali government declared a humanitarian state of emergency on 23 November. Yet, neither the government nor the humanitarian community has adequate resources to respond. With a few days remaining in the year, the 2021 Humanitarian Response Plan which seeks US$1.09 billion remains only 70 per cent funded. Additional resources are urgently needed to prevent the dire humanitarian situation from becoming a catastrophe, so we continue to engage partners on this subject. In this regard, I undertook missions to Europe in October and to the Gulf in September. Throughout my interactions with partners, I stressed the need for additional funding to address Somalia's escalating humanitarian crisis and elaborated on how inaction not only risks a reversal of the gains but puts the lives of millions of Somalis in jeopardy. Through my field visits in Somalia, I have also seen first-hand the grim realities of adverse climate conditions. Somalia is no doubt on the frontline of climate change. The recurrent droughts and floods are driving widespread displacement, rapid urbanization, hunger, malnutrition and poverty. Climate change is also increasingly seen as the driver of conflict and a threat to the country's security as the struggle over meagre resources deepens divisions. In addition, the loss of traditional livelihoods makes people vulnerable to recruitment by armed groups such as Al-Shabaab. Somalia is currently experiencing a third consecutive season of below-average rainfall, with nearly 80 per cent of the country experiencing drought conditions, water shortages and livestock deaths. One in five Somalis does not have enough water to cover his/her basic needs. On a positive note, as part of the efforts to mitigate the climate emergency, the government, with the support of the United Nations, has recently adopted an ambitious Nationally Determined Contribution to achieve global climate targets, in which Somalia committed to reduce its greenhouse gas emissions by 30 per cent by 2030. Somalia's crises are multifaceted, and they require comprehensive solutions from all stakeholders. It is our collective responsibility to support the efforts of the Somali people to cope with these crises and find lasting solutions that build resilience against future shocks. We must not fail the people we pledged to serve.
Adam Abdelmoula, Deputy Special Representative of the UN Secretary-General, Resident and Humanitarian Coordinator for Somalia, held a press conference on Monday, 20 December on the situation in Somalia, where the UN and partners is launching a nearly $1.5 billion Humanitarian Response Plan (HRP). Roughly 7.7 million people in the country will need assistance and protection in 2022, a 30 per cent rise in just one year.
Written by Adam Abdelmoula, Deputy Special Representative of the UN Secretary-General, Resident and Humanitarian Coordinator for Somalia