Story
A round-up of activities of the UN system in Somalia in August 2023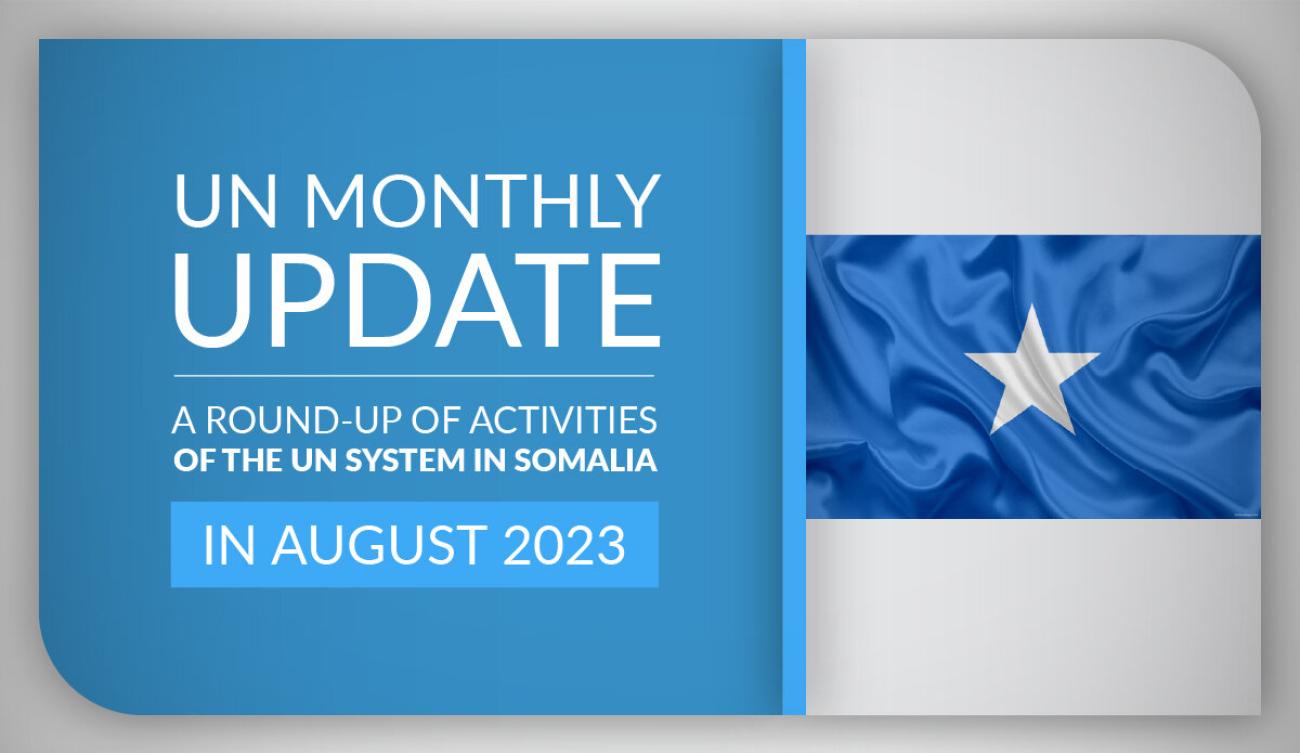 A brief summary of some of the activities of the United Nation in August.
Shelter | UN-HABITAT to build 200 shelters for displaced people in Baidoa
UN-Habitat began a building project which will see 200 houses constructed via an owner-driven approach by internally displaced people in Baidoa on a piece of land donated by the municipality.
This was after the shelter stakeholders, as well as the Mayor of Baidoa, presided over the commissioning of the construction, following the approval of the first prototype.
The two-room standard design prototype – jointly developed by the Norwegian Refugee Council (NRC) and UN-Habitat, and agreed on by the respective local and state authorities – was constructed by local masons through proper training from NRC technical engineers.
All construction materials are being procured locally to boost the economy. Skilled labourers and interested beneficiaries will be provided with on-the-job training for the construction of their shelters, equipping them further for the construction industry.
The project was funded by the Swedish International Development Cooperation Agency.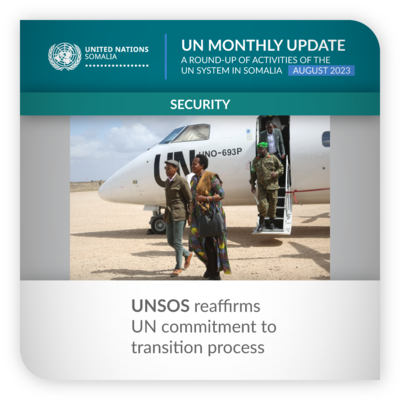 Security | UNSOS reaffirms UN commitment to transition process
The Head of UNSOS, Assistant Secretary-General Aisa Kirabo Kacyira, affirmed the UN's commitment to enhancing collaboration to ensure a successful transition process for Somalia's security sector.
The senior UN official had been speaking while on a visit to Jowhar, the administrative capital of Hirshabelle, where she had journeyed as part of a high-level delegation of officials from the Federal Government of Somalia, the African Union Transition Mission in Somalia (ATMIS) and the UN. The security transition involves the handover of primary responsibility from ATMIS peacekeepers to Somali security forces.
Humanitarian | OCHA highlights World Humanitarian Day
OCHA coordinated the observance of World Humanitarian Day – which is marked on 19 August annually – with a virtual event which brought together senior Somali government officials, representatives from non-governmental organisations and donors, as well as UN officials.
Testimonies from aid workers were shared, highlighting experiences and challenges. Participants reiterated the need to protect aid workers and facilities, in line with humanitarian principles. In-person observances were held in Puntland, Galmudug, Banadir and Somaliland.
Climate change | UNDP builds flood walls in Belet Weyne
Climate change is worsening floods along the Shabelle River, causing huge disruption and threatening lives and livelihoods, particularly in Belet Weyne and its surrounding areas in the Federal Member State of Hirshabelle.
In response, UNDP began work on new flood protection infrastructure for Belet Weyne, funded by the Global Environment Facility (GEF).
Across Somalia, GEF funds also support UNDP's work on integrated water resources management, benefiting more than 350,000 agro-pastoralists with projects that empower national institutions to formulate policies and pastoralists to implement action on-the-ground.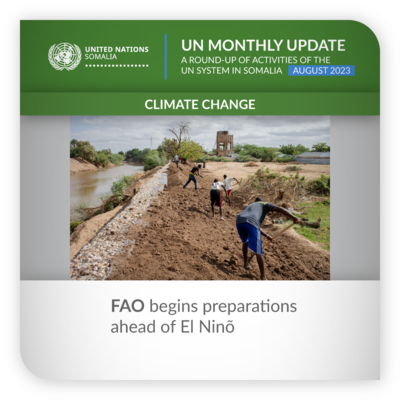 Climate change | FAO begins preparations ahead of El Nino
With the UK, FAO launched a $3.8 million anticipatory action and preparedness initiative in Somalia ahead of an expected El Niño event.
The project, called 'Badbaado' (transl.: "to salvage from calamity'), will help to protect vulnerable rural communities from the worst impacts of a potential flood disaster.
The project, which is expected to benefit over 1.2 million people in Somalia, is a critical initiative that will help reduce the risk of a major humanitarian disaster in the country, according to FAO. It will focus on three main areas: improving flood defences, early warning systems and preparedness actions.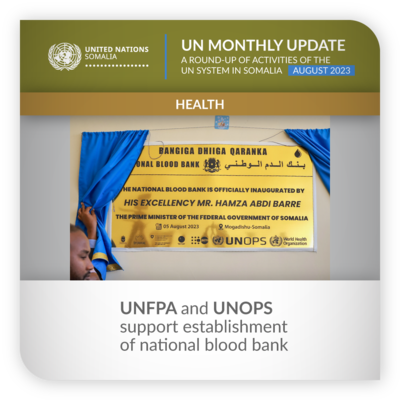 Health | UNFPA and UNOPS support establishment of national blood bank
The Somali National Blood Bank was inaugurated in Mogadishu, through a collaboration between UNFPA, UNOPS, WHO and the governments of Sweden, Switzerland, Finland, Italy and Somalia.
According to UNOPS, the blood bank promises to reshape the healthcare scenario by addressing one of its most critical challenges: access to safe blood supply and transfusion services. UNFPA added that the initiative addresses healthcare challenges by ensuring a steady supply of safe blood products for surgeries, emergencies, and maternal care.
Equipped with state-of-the-art technology, the facility is designed to screen, prepare, and securely store blood and blood products, ensuring both safety and quality. The blood bank's capacity of 50 units per day and storage capacity for 6,500 units fill a vital gap in Somalia's healthcare system, enhancing maternal care and emergency responses.
Displacement | IOM provides aid to 920,000 displaced people and host communities
With the EU, IOM successfully completed a one-year transformative project to provide life-saving assistance to more than 920,000 displaced people, as well as host communities, in Somalia.
In response to the country's urgent humanitarian crisis, as part of the six million euro project, IOM focused its efforts on providing essential aid to affected individuals residing in displacement sites across Somalia. The UN's migration agency delivered camp services, water, hygiene kits, shelter solutions and cash assistance to those in need.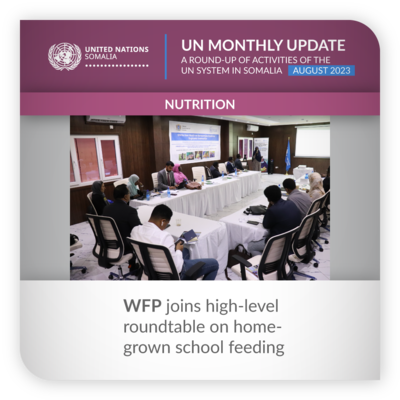 Nutrition | WFP joins high-level roundtable on home-grown school feeding
WFP took part in a ministerial roundtable in Mogadishu to map out the transition to a national home-grown school feeding programme for Somalia.
WFP works with the Somali government to implement home-grown school feeding, whereby ingredients for meals are sourced from local food producers and retailers. According to WFP, this not only helps build Somalia's future human capital by improving educational outcomes, but also boosts local economies by linking farmers to new markets.
WFP has noted that there is a great opportunity for the Somali authorities to expand on these benefits by taking full ownership of a school feeding programme on a national scale.
The roundtable marked an important step towards realising this vision, with the Ministries of Finance, Agriculture and Irrigation, and Education, Culture and Higher Education all making strong commitments. WFP pledged to support the transition through technical assistance, resource mobilization and advocacy.
Health | WHO supports vaccination campaign against cholera
WHO supported a five-day cholera vaccination campaign rolled out in the so-called 'Mandela triangle,' which covers five districts of Jubaland that border Kenya and Ethiopia.
The campaign aimed to protect more than 600,000 Somalis and involved staff going house-to-house in the 'Mandela triangle,' where drought conditions contributed to 11,704 suspected cases and 30 deaths by July this year.
The campaign involved 788 teams of health workers and social mobilizers, supported by WHO, UNICEF and the federal and state ministries of health. Gavi provided the vaccines and the funding for this vital intervention.
The campaign reached 535,789 people, with a slightly higher proportion of females than males. More than 90 per cent of the target population were vaccinated, according to WHO.
Development | UNIDO launches two new business units in Galmudug and Puntland
UNIDO launched two new Enterprise Development Units (EDUs) in Galmudug and Puntland, as part of the expansion of its Productive Sectors Development Programme (PSDP) project.
The two EDUs are in the cities of Galkayo and Bosaso – in the Federal Member States of Galmudug and Puntland, respectively – and have already begun their first 'Training of Entrepreneurs' (ToE) sessions to train and support local, aspiring businesspeople.
In Galkayo, the EDU had 20 participants, including youth and women, in its ToE session in August. In Bosaso, some 25 people are taking part, with the ToE there due to end in early September.
Youth | UNSOM engages young Somalis on peace and security
To celebrate International Youth Day and promote the Youth, Peace and Security Agenda, UNSOM partnered with various youth organisations to hold dialogues among young Somalis in major cities across Somalia.
Overall, the dialogues involved 465 young women and men from different backgrounds who discussed peace and security issues and developed recommendations and action plans for youth involvement in peacebuilding and decision-making processes.
The gatherings provided a platform for youth to express their opinions, share their challenges, and propose solutions for peace and security in Somalia. The outcomes of the dialogues will help inform UNSOM's work on youth empowerment and engagement.
UN entities involved in this initiative
FAO
Food and Agriculture Organization of the United Nations
IOM
International Organization for Migration
OCHA
United Nations Office for the Coordination of Humanitarian Affairs
UN-Habitat
United Nations Human Settlements Programme
UNDP
United Nations Development Programme
UNIDO
United Nations Industrial Development Organization
UNSOM
United Nations Assistance Mission in Somalia
UNSOS
United Nations Support Office in Somalia
WHO
World Health Organization