Story
A round-up of activities of the UN system in Somalia in May 2023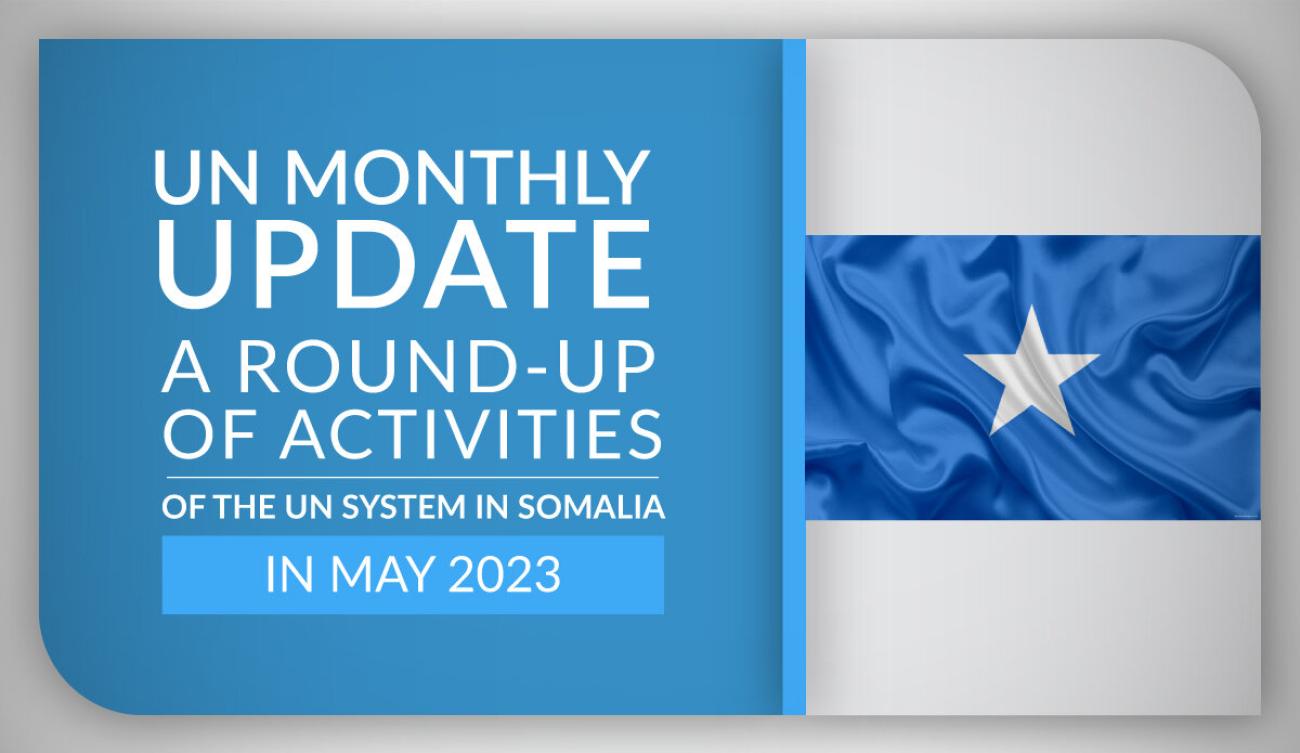 Some of the highlights of the work of the UN system in Somalia in May 2023.
Climate change | FAO launches flagship initiative to increase climate resilience

In partnership with USAID, FAO launched a flagship project to support Somalia's resilience and climate adaptation agenda.

The project – 'Reducing Communities' Vulnerability to Drought and External Shocks (Recover)' – intersects with existing humanitarian programming, offering vulnerable families a pathway from humanitarian dependency towards resilience.

In particular, the project seeks to improve farmers' access to equipment, build skills and capacity in climate-smart production, support income diversification, and improve market access for around 54,000 rural people.

FAO notes that the support comes at a crucial time following more than two years of drought, and at a time when Somalia requires investments in longer-term actions across productive sectors that seek to address the underlying causes of recurrent crises.

Flood response | WFP delivers aid to families stranded by floods

Along with Somali and international partners, WFP was quick to respond to the flooding in Belet Weyne after the Shabelle River burst its banks.

Using boats and tractors to reach communities and villages cut off by the rising waters, WFP delivered urgently needed food to stranded families.

Youth | UNDP supports Somali youth to learn electronics and robotics

UNDP has trained youth centre leaders from Mogadishu, Garowe, Dahatr and Bodle on electronics and robotics.

As part of the programme, these initial trainees will go on to train young people from their home areas as part of efforts to boost education in science, technology, engineering, and mathematics (STEM) in Somalia and improve employment opportunities for youth.

Population| UNFPA supports Somali Population and Housing Census

The Federal Government of Somalia launched the Somali Population and Housing Census 2024 – a historic event for the country.

UNFPA is a key partner in this endeavour, and noted that the event demonstrated the government's commitment to the task, in addition to highlighting the importance of international support.

According to UNFPA, the census will provide essential data for development projects, policies and programmes. It will cover all regions, including those where refugees and internally displaced people are located, and utilize modern technology for accurate data collection.

UNFPA has stated that its success will have transformative effects on governance, political representation, humanitarian response and the lives of the Somali people. In addition, the census will also address the needs of women and girls, promote cultural diversity, and aid in climate crisis mitigation.

Flood response | UNICEF assesses needs of people affected by floods

Along with Somali and international partners, UNICEF was quick to respond to the flooding in Belet Weyne after the Shabelle River burst its banks.

With a WFP delegation, UNICEF's Representative to Somalia, Wafaa Saeed, travelled to affected areas to assess the needs of those affected by the flooding. In the Ceel Jale Health Facility, they spoke with recently displaced mothers to hear what their urgent needs are.

The UN agency has noted that emergency safe water is being trucked in and hygiene kits have been distributed to help combat preventable diseases, as part of the response. Also, mobile health clinics are reaching people any way possible, even by donkey carts.

At the same time, with Somalia taking the brunt of climate change with a drought crisis to localized floods, UNICEF called on the international community to help Somalia invest in livelihoods and promote climate adaptation.

Flood response | IOM supports communities displaced by floods

Along with Somali and international partners, IOM scaled up its support to communities affected by heavy rains and flooding in south and central Somalia.

With others, IOM carried out field assessments in Baardheere and Belet Weyne to identify the most pressing needs of affected families.

To date, IOM has coordinated the rapid deployment of life-saving assistance to 3,800 families in the flood-affected communities in Baardheere. The assistance includes hygiene kits, water trucking, emergency shelter material.

IOM has also been carrying out regular hygiene promotion and awareness-raising campaigns in flood-affected areas in the Gedo region to mitigate the risk of waterborne diseases. This is in addition to rehabilitating existing water sources, with the aim of guaranteeing access to safe drinking water during disasters, such as floods.

Humanitarian | OCHA: Pooled funds allocated $3 million for cholera and flood response

The Somalia Humanitarian Fund (SHF) allocated $3 million for cholera and flood response.

According to OCHA, while donor support has so far enabled humanitarian partners to reach 5.6 million people from January to April this year, the 2023 Humanitarian Response Plan – which seeks more than $2.6 billion to meet the priority needs of 7.6 million people – is 25.7 per cent funded. The current funding shortfalls are significantly hampering the response, forcing partners to undertake hard prioritization.

The SHF is a multi-donor country-based pooled mechanism created in 2010 to allocate funding for the most urgent life-saving interventions in Somalia. Combining flexibility and strategic focus, the Fund ensures timely allocation and disbursement of resources, enables effective humanitarian action and strengthens coordination. The Humanitarian Coordinator for Somalia decides on SHF allocations and, on a day-to-day basis, the SHF is managed by OCHA.

Elections | UNSOM: UN and international partners commend people of Puntland

In a joint statement with Somalia's international partners, and ahead of district council elections in Puntland on 25 May, the UN in Somalia commended the people of the Federal Member State of Puntland for their determination to deliver on their democratic aspirations and commitments.

The statement continued: "The partners acknowledge the efforts, notably by the Transitional Puntland Electoral Commission (TPEC), to overcome significant challenges in preparing for this historic event of direct elections. The partners encourage all stakeholders to contribute to ensuring the elections are conducted in a peaceful atmosphere, and to address any questions or disputes that may arise through dialogue and the legal framework.

"The partners believe that Puntland's experience with direct elections has the potential to inform and inspire the expansion of democracy across Somalia, at all levels of government. The partners remain committed to supporting Somalia's process of democratization."

Business development | UNIDO launches campaign for business ideas

In collaboration with Somali partners, UNIDO launched the Business Incubation Communities Somali (BIC Somali) Outreach Campaign.

The campaign involves seeking business ideas with potential and which involve individuals or teams who have a solid entrepreneurial vocation and have ideas which are capable of generating a strong social and economic impact.

UNIDO's partners for the project are iRise Innovation Hub (iRise), SIMAD Innovation Lab (SIMAD iLAB), and Hargeisa Innovation Hub (HarHub), and the overall aim of the BIC Somali Outreach Campaign is to empower and support young people, especially women, to create their own businesses and promote a culture of entrepreneurship among youth.

Development | RCO: UN and Government unveil multi-donor trust fund to support Somali development priorities

The UN and partners unveiled a revamped multi-donor trust fund in support of Somalia's development priorities and in line with its government's UN Sustainable Development Cooperation Framework for Somalia (2021-2025).

The Somalia Joint Fund – a joint venture between Somalia, the United Nations and international partners – will provide resources and maximize synergies across the UN system through joint action to better the lives of the Somali people.

The fund, which is administered by the UN Multi-Partner Trust Fund Office in New York, seeks to mobilize $60 million annually over the next seven years to support the most critical and strategic priorities in Somalia through seven areas of funding. These are: Inclusive Politics; Rule of Law; Human Rights and Gender; Climate and Resilience; Community Recovery and Local Governance; Economic Development; and Social Development.
UN entities involved in this initiative
FAO
Food and Agriculture Organization of the United Nations
IOM
International Organization for Migration
UNDP
United Nations Development Programme
UNICEF
United Nations Children's Fund
UNSOM
United Nations Assistance Mission in Somalia