Story
A round-up of activities of the UN system in Somalia in April 2023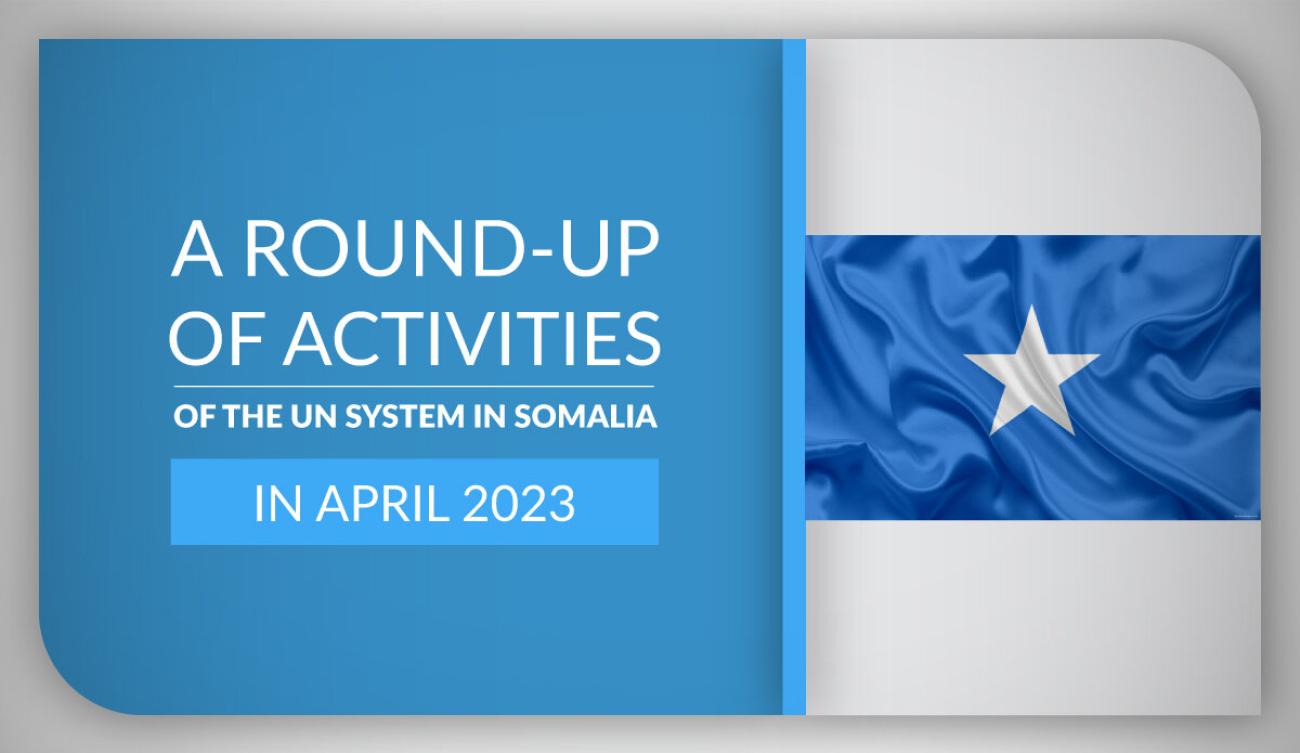 A snapshot of some of the activities of the UN family in the month of April 2023.
Food | FAO rehabilitates canals to help farmers overcome water shortages

With support from FAO and funding from the Swedish International Development Cooperation Agency, farming communities in Somalia's Middle Shabelle area have been able to strengthen their household food security through the 'Building Resilience in Middle Shabelle' (BRiMS) project.

The project, which is aimed at increasing the resilience of livelihoods to threats and crises, was able to restore a reliable water supply from the Shabelle River to smaller canals where highly-vulnerable smallholder farmers cultivate their crops.

Through local implementing partners, FAO was able to provide agro-pastoralists in the region with the establishment of community groups, irrigation services, training in good agricultural practices, and better access to markets through the rehabilitation of bridges and walkways to get their produce to market across the many waterways in the region.

Food | WFP supports training for farmers' collectives in Hirshabelle and South West State

WFP supported training on crop storage and grain quality testing mechanisms for 30 farmers' cooperatives in Somalia's Hirshabelle and South West State, representing some 7,500 farmers.

The training was part of WFP's ongoing work to promote the purchase and consumption of locally-produced food and strengthen market value chains in Somalia. WFP is now onboarding the cooperatives onto its roster of contracted retailers, enabling them to sell locally-produced food to people receiving WFP cash-based humanitarian assistance.

Youth | UN-Habitat to construct soccer field in Kismayo

Working with the Norwegian Refugee Council, UN-Habitat held a ground-breaking ceremony for the construction of a soccer field in the Midmimo Settlement, in Jubaland's Kismayo.

The settlement is home for resettled returnees, internally displaced people and host communities. This facility provides room for recreation, supports youth development, and promotes social cohesion, peaceful coexistence, unity and integration.

The soccer field is part of a larger youth project which is funded by the Government of Sweden and which focuses on youth and urban regeneration.

Freedom of expression | Bilan Media celebrates first anniversary

Somalia's groundbreaking all-women news media team, Bilan, celebrated a year of smashing taboos and blazing a trail for women journalists in a country ranked as one of the most dangerous places to report the news.

Established with support from UNDP, Bilan has provided the first opportunity for Somali women journalists to exercise complete editorial independence, deciding what they want to report and how.

They have already used this freedom to break some of Somalia's first major stories on a range of challenging issues, spurring public debate and official reaction. This includes reports on HIV-positive Somalis living in fear, the abuse of female orphans, schools for autistic children and teachers, and an epidemic of opiate use among women in Mogadishu.

Health | UNFPA launches truck-mounted mobile maternity care units

UNFPA has provided truck-mounted medical units to the Somali authorities as part of efforts to improve access to life-saving maternal and newborn health services amidst the humanitarian crisis in Somalia.

At a handover ceremony, the federal Minister of Health, Dr. Ali Haji Adam, received five of the Mobile Maternity Clinics (MMCs) on behalf of the Federal Government of Somalia. The MMCs were procured by UNFPA with funding from donors via the Somalia Multi Partner Trust Fund – including Sweden, Switzerland, Finland and Ireland.

The truck-mounted emergency obstetric and newborn care units will be positioned where health facilities are absent. UNFPA has noted that demand is high to provide safe deliveries and life-saving maternal and newborn health services for populations affected by the humanitarian situation.

Policing | UNOPS hands over 800 radios to Somali Police Force

UNOPS delivered 800 radios to the Somali Police Force to improve communication, and enable the police to better maintain law and order and protect local communities.

According to UNOPS, the enhanced communication capabilities will allow the police to respond to emergencies and coordinate their efforts more effectively.

The handover was part of the Joint Police Programme (JPP), which is funded by the European Union, the United Kingdom and Germany, and aims to strengthen the partnership between the government and international organizations and develop a capable police force.

Health | UNICEF launches vaccination campaign for children

For World Immunization Week, which is observed in the last week of April, Somalia's Ministry of Health, WHO and UNICEF launched a campaign called 'The Big Catch-Up' to reach children who missed out on vaccines, and to strengthen routine immunization and primary healthcare.

UNICEF's recent flagship report, 'The State of the World's Children 2023,' indicated that childhood routine immunization slowed during COVID-19 and that the perception of the importance of childhood vaccines has declined. In Somalia, factors like access and the ongoing drought increase the risk of measles and polio outbreaks.

Last year, UNICEF and its partners jointly implemented four rounds of accelerated immunization activities, five polio campaigns, eight campaigns for COVID-19 and nationwide measles, polio, vitamin A and deworming campaigns.

Humanitarian | UN Secretary-General calls for more international support for Somalia

Continuing his tradition of carrying out solidarity visits to Muslim countries during the Holy Month of Ramadan, UN Secretary-General António Guterres visited Somalia, where he underlined the need for international engagement to alleviate the country's dire humanitarian situation and aid with state-building efforts.

"It is time for the international community to mobilise much more support, support for the Somalis to guarantee the security of their people and fight terrorism, support for the Somalis to solve the humanitarian drama that we can witness in a camp like this one," said the UN chief after visiting a camp for internally displaced people in Baidoa.

In addition to visiting Somalis affected by the country's humanitarian crisis, Mr. Guterres met Somalia's President Hassan Sheikh Mohamud, and members of his cabinet and advisors, representatives of civil society organisations, and the heads of UN agencies, funds and programmes operating in Somalia.
UN entities involved in this initiative
FAO
Food and Agriculture Organization of the United Nations
UN-Habitat
United Nations Human Settlements Programme
UNDP
United Nations Development Programme
UNFPA
United Nations Population Fund
UNICEF
United Nations Children's Fund