Story
A round-up of activities of the UN system in Somalia in March 2023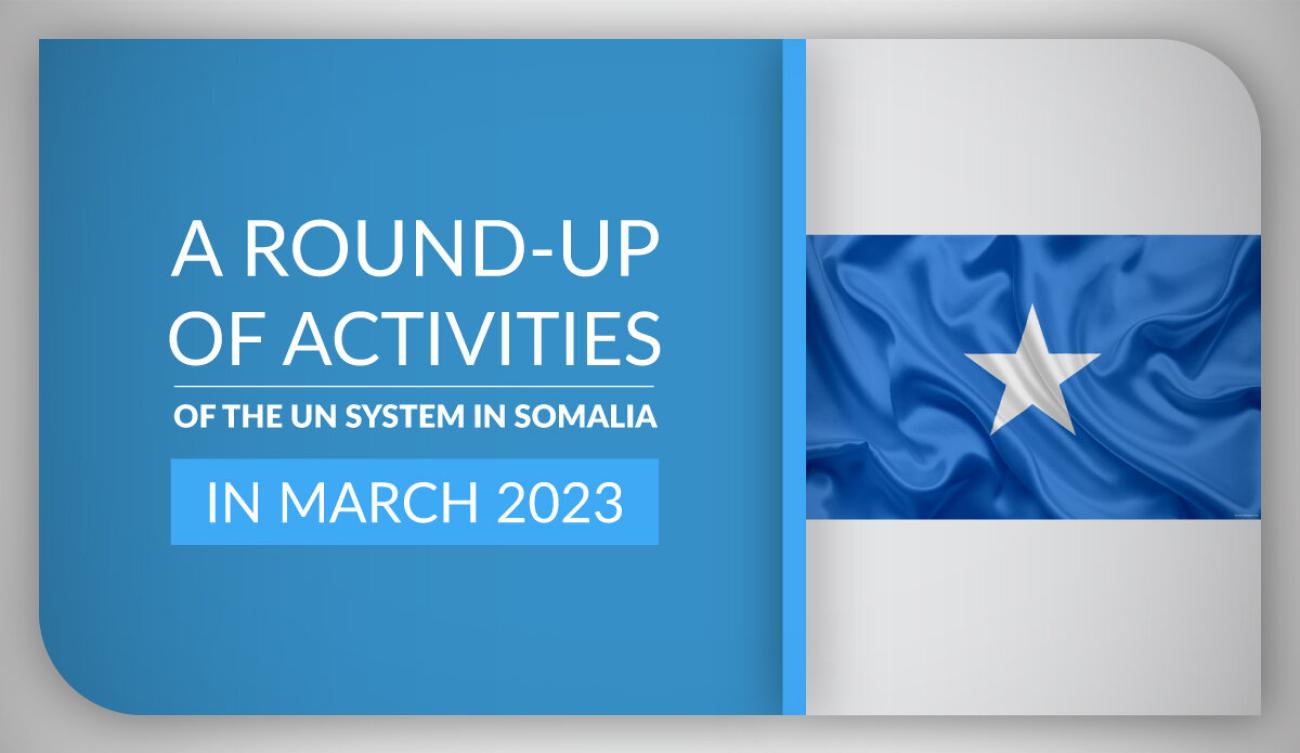 Highlights from the UN's work in Somalia in the month of March
Humanitarian | OCHA coordinates humanitarian response in Laascaanood

Humanitarian partners stepped up efforts to assist people affected by conflict in Laascaanood. OCHA coordinated the response in the areas accessible to the humanitarian workers. In addition, the Humanitarian Coordinator authorised $2 million from the Somalia Humanitarian Fund (SHF) reserve allocation for life-saving interventions in Laascaanood.

Drought response | WFP distributes wheat from Black Sea Grain Initiative

WFP distributed grain from Ukraine in several areas of Somalia as part of an unprecedented scale-up of life-saving food assistance, responding to the historic drought and hunger crisis afflicting the country.

The wheat came from a shipment of 25,000 tons that WFP, with the support of key donors, was able to bring into Somalia under the Black Sea Grain Initiative. This maritime humanitarian corridor is critical in meeting the needs of the most vulnerable in Somalia and worldwide.

Business development | UNIDO supports entrepreneurship training

UNIDO, in collaboration with the European Business Network (EBN), organised a three-day Business Innovation Centres (BIC) Africa Somali Boot Camp Training in Addis Ababa, Ethiopia, from 14 to 16 March 2023. The BIC Africa Somali Bootcamp was an opportunity for selected Somali business incubators to meet, connect and exchange knowledge among themselves and with experts in incubation and innovative entrepreneurship from the EBN.

Livelihoods | UNHCR launches fishing project in Bosaso.

In March, UNHCR in Bosaso handed over 18 boats and fishing accessories to 18 groups - 90 people - from among refugees, internally displaced persons (IDP) and host communities. Additionally, in cooperation with the Food and Agriculture Organization (FAO), UNHCR trained the recipients in fishing skills.

Promoting fishing in refugee settings can boost the well-being of both the local host communities and the refugees. Fishing can provide a stable livelihood and access to resources to augment the cash income necessary for food and further income generation.

Urbanisation | UN-Habitat supports Baidoa City Strategy

UN-Habitat and UNDP supported Baidoa Municipality in developing the Baidoa City Strategy.

Baidoa receives many IDPs, returnees, refugees and other migrants, and there is a need to improve the living conditions of displacement-affected communities, including host communities.

The Baidoa City Strategy will guide the developments in all parts of the rapidly urbanising city towards sustainable urban growth. This includes infrastructure for both IDP and host communities..

Resilience|FAO trains Sool farmers in livestock production

The livestock sector in Sool and the surrounding regions is one of the major contributors to the economy but is also one of the most vulnerable to shocks like drought. The poor condition of livestock affects agropastoralists' livelihoods forcing some to move in search of better living conditions. It also causes child malnutrition and conflict over scarce water resources in semi-arid regions.

With funding from the Dutch government, FAO is supporting local communities in the Sool region by introducing new approaches that strengthen traditional livelihoods. The Food and Nutrition Security Resilience Programme Building Food System Resilience in Protracted Crises (FNS-REPRO) Project employs simple technologies, innovation and peace-building elements to help communities adapt to climate disasters, working together to improve their resilience against future shocks and enhancing social cohesion.

Women empowerment | UNFPA celebrates womanhood

UNFPA Somalia marked International Women's Day 2023 with 14 diverse events. These included panel discussions on gender equality and opportunities for women, an art exhibition showcasing the works of Somali women, a display of craftsmanship by Somali women, and a community outreach event aimed at ending harmful practices, advocating for peace, and promoting girls' education. UNFPA and partners also distributed dignity kits at two IDP camps to support women and girls with essential hygiene supplies.

Environment | UNDP supports Somalia in formulation of a new Environment Management Bill

Somalia's House of the People unanimously endorsed the Environment Management Bill formulated by the Ministry of Environment and Climate Change with financial support and technical assistance from UNDP and the Global Environment Facility. The Bill now advances to the Upper House. If passed, it will pave the way for better allocation and management of natural resources, boosting prosperity and security for millions of herders, pastoralists, and Somalis from all walks of life.

Displacement | UNICEF provides humanitarian aid to displaced in Laascaanood

Amidst the rising numbers of people displaced by fighting in Laascaanood, UNICEF stepped in with various forms of support.

It delivered emergency safe water to 35,000 people, curative health services for diarrhoea, screening and treatment of malnutrition, and provision of micronutrient supplements to children and pregnant and lactating women.

Additionally, UNICEF supported the return of about 1,300 children to school. Thanks to advocacy, the authorities in Puntland have waived tuition fees and uniform requirements for displaced pupils.

UNICEF has trained 18 child protection workers to identify unaccompanied and separated children and other vulnerable children in Laascaanood and provide psychosocial support.

Rule of law| UNOPS partners with EU in support of Somalia's security forces

UNOPS Somalia signed an MoU with a Somali partner to implement an EU-funded support package for Somalia's security forces. This partnership marks a significant step towards achieving a more stable and secure Somalia, and UNOPS Somalia's expertise in project management and implementation will be critical in ensuring the successful delivery of the EU support package. The EU's increased support has already had a significant impact on the ground, providing modern equipment and better communication tools to Somalia's security forces.

Criminal investigation | IOM supports Somalia in tackling transnational organised crime

Border officials and law enforcement specialists from the governments of Somalia and Kenya met in Machakos, Kenya, in February at a workshop organised by IOM to discuss joint practices to address transnational organised crime. Limited border management mechanisms and the region's largely porous borders allowed criminal bands and extremist groups to trade illegal weapons and drugs without fearing prosecution and moving criminals between the countries.

With IOM's support, Somalia and Kenya are working on a framework to address transnational organised crime. The new framework, discussed during the workshop, will set out new mechanisms, recommendations and practices to enhance the cooperation between both countries to counter cross-border crimes and minimise threats from criminals.

Water resources management | UN supports a systems approach to the water management

Somalia UN Country Team and several external stakeholders took part in a four-month Leadership Lab introducing new concepts and tools on water challenges in the country.

The group defined three systems leadership objectives: shifting mindsets on climate-resilient water resource management by deepening dialogue across sectors and levels; experimenting with joint programming; and developing a 'do less environmental harm' approach to humanitarian efforts on the water crisis.

IWD | UN congratulates Somali women for their contribution to building a better Somalia

On International Women's Day, the United Nations in Somalia congratulated Somali women for their continued contributions to their country's development.

"From peacebuilding and reconciliation efforts to the stabilisation activities in areas recently recovered from Al-Shabaab control and the humanitarian response to the ongoing drought – Somali women continue to contribute significantly to all facets of public life," said the UN Secretary-General's Deputy Special Representative for Somalia, Anita Kiki Gbeho.

Somali women's contributions include providing humanitarian support – such as food and other essential supplies and accommodation – for people affected by conflict and the long-running drought.

This year's International Women's Day theme is 'DigitALL: Innovation and Technology for Gender Equality,' and aims to highlight the importance of digital technology as an opportunity to narrow gender gaps by enhancing women's access.
UN entities involved in this initiative
IOM
International Organization for Migration
OCHA
United Nations Office for the Coordination of Humanitarian Affairs
UN-Habitat
United Nations Human Settlements Programme
UNDP
United Nations Development Programme
UNICEF
United Nations Children's Fund
UNIDO
United Nations Industrial Development Organization
UNOPS
United Nations Office for Project Services