Story
A round-up of activities of the UN system in Somalia in January 2023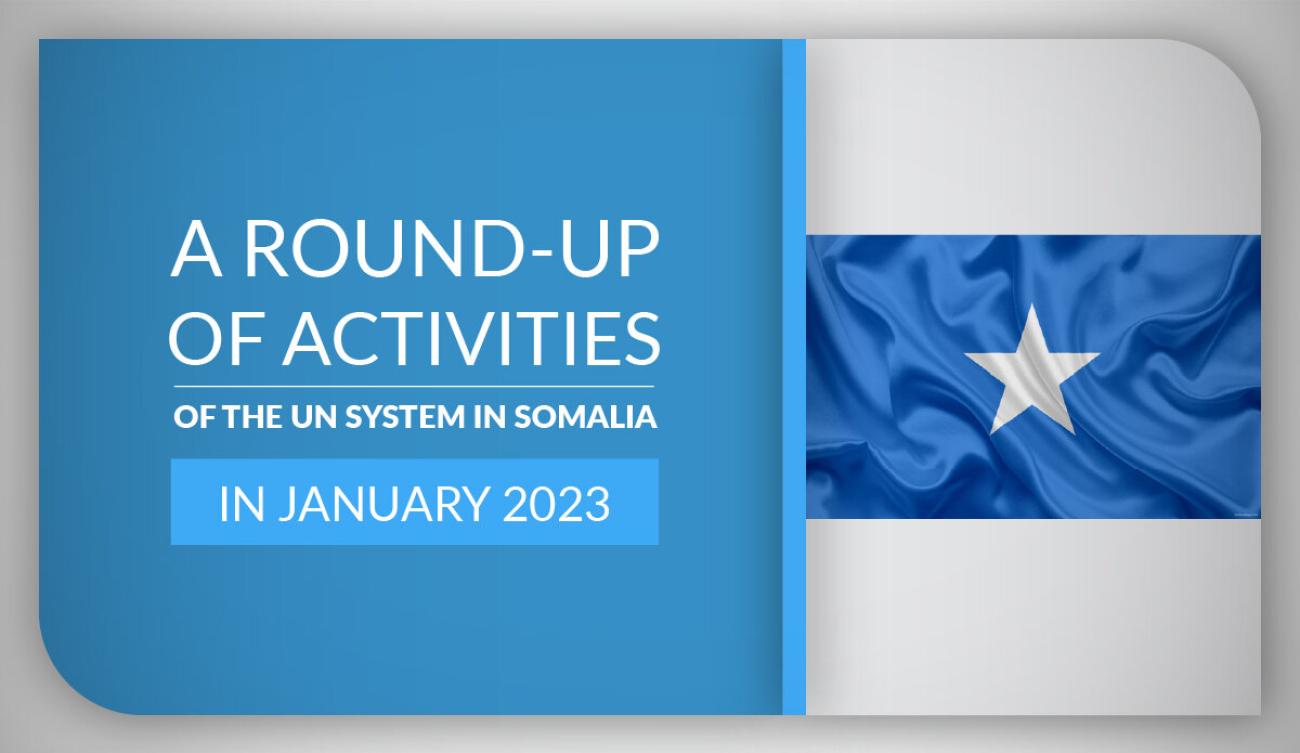 Highlights from some of the activities of the UN works in Somalia in January 2023
Development | UN-Habitat installs streetlights to promote access and security in Berbera

UN-Habitat started installing solar streetlights on a six kilometre road leading to the Batalaale beach in Berbera, Somaliland.

The lights are aimed at increasing accessibility and safety while using the public space. Even before completion, there had been a reported increase in activity at the beach with people engaging in sporting activities and leisure walks at night.

The installation is a component of the larger Berbera Beachfront Development initiative that is underway and which aims to help provide a vibrant public space for residents and visitors to enjoy.

Humanitarian | OCHA finalizes Somalia 2023 Humanitarian Needs Overview

On behalf of Humanitarian Country Team and partners, OCHA finalized the 2023 Somalia Humanitarian Needs Overview (HNO), which provides a shared understanding of the country's humanitarian crisis, including the most pressing needs and the estimated number of people who need assistance.

It represents a consolidated evidence base and helps inform planning; OCHA is finalizing the 2023 Humanitarian Plan.

According to the 2023 HNO, an estimated 8.25 million people – 1.3 million women, 1.8 million girls, 1.8 million boys, 1.5 million children under five, one million men and 412,000 elderly – require humanitarian assistance and significant segments of the population are on the brink of famine.

Humanitarian | UNFPA partners with All Africa Music Awards to raise funds and awareness

UNFPA partnered with All Africa Music Awards (AFRIMA) to raise awareness and funds for the ongoing humanitarian crisis in Somalia, with a specific focus on the impact of the drought on the lives of Somali women and girls.

During AFRIMA's eighth awards ceremony, held in Senegal, Ifrah Ahmed, a Somali-Irish activist and founder of the Ifrah Foundation, presented the case for Somali women and girls – on behalf of UNFPA – following the screening of a brief documentary highlighting the dire need for increased aid and support.

UNFPA also managed a stall at the event, where visitors were encouraged to donate and spread the word on #HopeForSomalia.

AFRIMA is one of the most high-profile events in Africa, attracting thousands of visitors from across the continent and the world. According to UNFPA, the partnership will have a significant impact by raising awareness and funds to provide aid and support to those affected by the humanitarian crisis in Somalia.

Rule of Law | UNDP trains 300 'Darwish' officers on human rights

UNDP trained 300 federal Darwish officers on human rights in the Lower Shabelle region in Somalia's South West State.

The training provided the Somali police officers with a more practical understanding of how to respect human rights while providing policing services and engaging with communities; how to apply legal frameworks, ethical standards, and best practices in their daily work; and how to ensure the protection of fundamental human rights and the application of international standards of conduct within the police.

According to UNDP, it is fundamental that the Somali Police Force receives the necessary human rights training to serve communities without violating human rights. The training is also expected to improve the officers' law enforcement capacity to deal with practical situations within the confines of the law.

Security | UNSOS supports ATMIS handover of Maslah military base

UNSOS supported the official handover of the Maslah Forward Operating Base, located on the outskirts of the capital, Mogadishu, from the African Union Transition Mission in Somalia (ATMIS) to the Federal Government of Somalia.

ATMIS had operated from the base since 2012.

The handover was in line with the joint Concept of Operations and the Somali Transition Plan, which were developed by the Federal Government of Somalia, ATMIS, the UN and development partners to guide the transition process in which prime responsibility for Somalia's security will be taken over by Somali forces.

Health | UNICEF supports integrated measles and nutrition campaign

UNICEF carried out a five-day integrated measles and nutrition campaign in Somaliland, in collaboration with its Ministry of Health Development and WHO.

The campaign provided measles and polio vaccines, vitamin A supplementation, deworming and malnutrition screening.

It involved social mobilizers fanned out across the region to create awareness and mobilize communities while mobile teams reached out to nomadic and pastoralist children in hard-to-reach areas.

A total of 620,657 children under the age of five were vaccinated against measles and 659,274 children received polio vaccines. More than 500,000 children received nutrition services that included Vitamin A, deworming and screening for malnutrition using the MUAC (mid-upper-arm circumference) method.

According to UNICEF, multi-package interventions like this campaign ensure that children are protected from deadly diseases and their general health and wellbeing improves, especially in times of drought.

Political | UN and international partners welcome Somali efforts to advance peacebuilding

In a joint statement, the UN in Somalia joined more than two dozen of Somalia's partners in welcoming efforts by Somalia's leaders to advance priorities on peacebuilding and state-building, including through the regular meetings of the National Consultative Council.

In particular, they welcomed the renewed focus on the constitutional review process, federal resource-and power-sharing, and reconciliation, all of which are crucial to ensuring Somalia's long-term stability.

They also called on all stakeholders to engage constructively in these efforts, and to resolve any differences through dialogue and consultation; and indicated that they remain committed to supporting Somalia in achieving its state-building priorities; the foundation for an inclusive, prosperous and peaceful Somalia.

Development | UN supports growth of Somalia's fisheries sector

In a meeting with Somalia's Minister for Fisheries and Blue Economy, Ahmed Hassan, the UN Deputy Special Representative for Somalia, Adam Abdelmoula, re-affirmed the UN's commitment to supporting the growth of the country's fisheries sector and blue economy.

In their discussions, Mr. Abdelmoula, who also serves as the UN Resident Coordinator and Humanitarian Coordinator for Somalia, noted that while the offshore sector may provide the most immediate profit for fisheries management, Somalia's small-scale and artisanal sector also offers untapped potential that can be harnessed for improved livelihoods, food security, employment and income generation.

Drought response | FAO supports families with cash and agricultural tools

The ongoing drought in Somalia has affected crop production for small-scale farmers. These farmers have been struggling to feed their families let alone produce sufficient crops for local consumption.

To help them overcome these struggles, FAO and the Government of Sweden implemented a project meant to improve food security and nutrition for more than 7,500 smallholder farmers and their families.

The project seeks to strengthen the resilience of communities to shocks and crises in Hirshabelle and South West State, and involved support for 30 farmer cooperatives in in the two Federal Member States with training to increase the capacity of smallholder farmers to produce crops.
UN entities involved in this initiative
FAO
Food and Agriculture Organization of the United Nations
OCHA
United Nations Office for the Coordination of Humanitarian Affairs
UN-Habitat
United Nations Human Settlements Programme
UNDP
United Nations Development Programme
UNFPA
United Nations Population Fund
UNICEF
United Nations Children's Fund
UNSOM
United Nations Assistance Mission in Somalia
UNSOS
United Nations Support Office in Somalia