Story
A round-up of activities of the UN system in Somalia in December 2022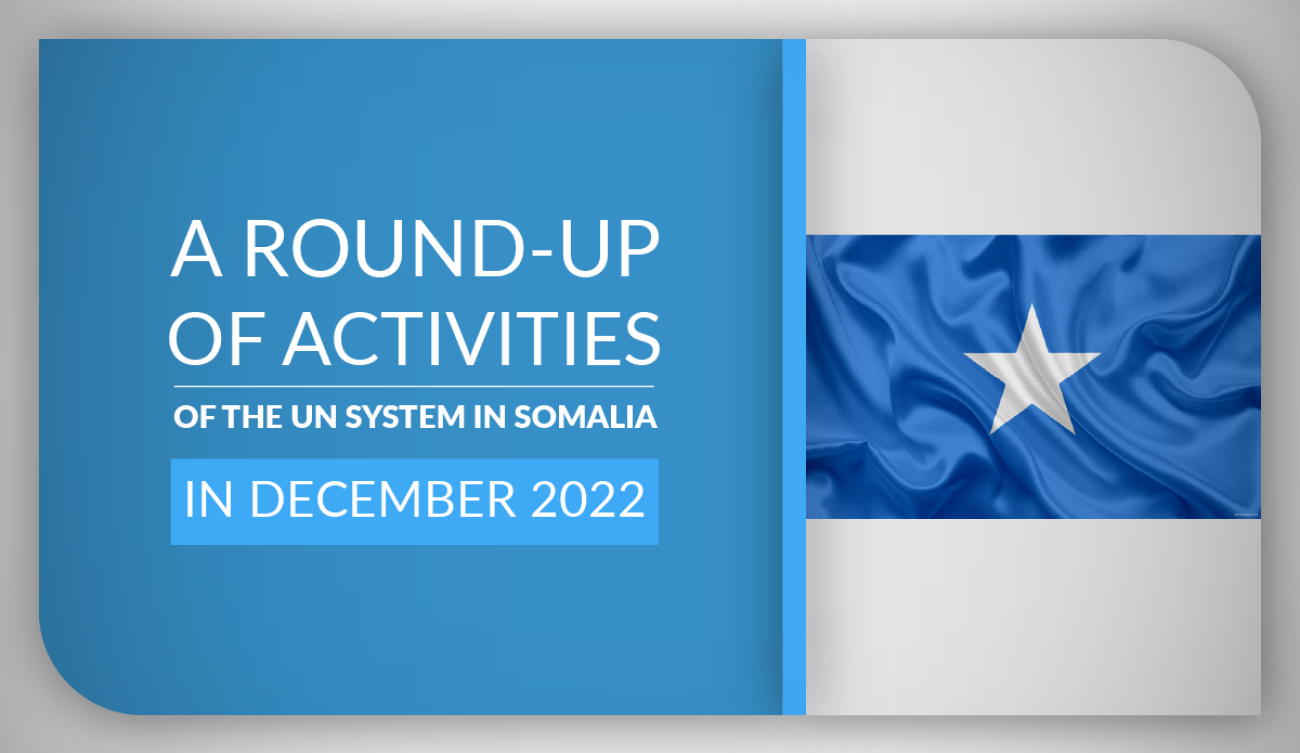 Highlights from some of the work of the UN system in Somalia.
Economy and private sector | UNIDO supports study tours for Somali companies and officials

Officials of the Ministry of Commerce and Industry (MoCI) of the Federal Government of Somalia (FGS) travelled to Italy, supported by United Nations Industrial Development Organisation (UNIDO), to meet their European counterparts, including business associations, financial institutions, and the Italian Trade Agency.

Separately, a group of Somali entrepreneurs participated in a two-day off-grid renewable energy systems exhibition in Germany, which focused on wind and hydropower systems. This was an opportunity to source clean and cheap energy. Furthermore, the Somali entrepreneurs toured a dairy/biogas farm and companies providing cooling solutions for the fishery, drip irrigation, water pumps and borehole drilling. Most importantly, the Somali companies engaged with their German counterparts in B2B, which allowed for knowledge exchange while talks were ongoing for possible technology sourcing.

Humanitarian | OCHA facilitates humanitarian visit to Galkayo

In December, the UN Office for the Coordination of Humanitarian Affairs (OCHA) facilitated the visit of the Humanitarian Coordinator and OCHA Head of Office to Galkayo to assess the humanitarian situation and the ongoing response.

The mission met with partners, authorities and people affected by the drought in Degaab and Ayah displacement sites in north and south Galkayo and discussed collective efforts to ramp up operations urgently. Partners informed the Humanitarian Coordinator that frontloaded funding is critical as the country enters the dry Jilaal season in January when humanitarian needs are expected to increase. More than 180,000 people are displaced in this area due to drought and ongoing conflict.

International Cooperation | UN at high-level conference on climate resiience

On 6 December, the Federal Government of Somalia, the United Nations, and the League of Arab States (LAS) co-hosted a high-level conference on drought and climate resilience in Somalia. Held in Cairo, Egypt, the conference brought together United Nations Agencies, Funds and Programmes, LAS member states, Arab NGOs, and financial institutions to respond to Somalia's dire humanitarian conditions and climate projections. The conference focused on emergency life-saving needs and medium- and longer-term sustainability to help break the cycle of recurrent crises.

Maternal health | UNFPA supports 136 midwifery graduates

On 11 December, 136 midwives from schools supported by the United Nations Population Fund (UNFPA) and Global Canada Affairs graduated in Mogadishu. On this day, a new midwifery curriculum for Somalia was also launched.

During this time of drought in Somalia, there is an increasing need for life-saving healthcare services, especially for pregnant women and mothers.

Qualified midwives provide critical quality maternal healthcare before, after, and during pregnancy and save the lives of women and children.

UNFPA continues supporting midwives and the midwifery profession in Somalia to ensure better health for all.

Health care | UNOPS facilitates the first National Blood Bank

Somalia's blood shortages and storage capacity make safe blood supply and transfusions difficult.

The United Nations Office for Project Services (UNOPS) is helping Somalia build its first fully functional National Blood Bank to address this problem. UNOPS is designing, building, and equipping the National Blood Bank with more than $3 million from UNFPA and technical help from WHO.

The blood bank in Somalia's capital, Mogadishu, will help secure and maintain a safe and sufficient blood supply.

Green technologies and sustainable ideas are being integrated into the building. Solar panels will supply the facility with clean energy. UNOPS is also collaborating with a local construction company to create jobs.

Gender and culture are taken into account when designing the blood bank. It will have separate blood donation areas for men and women, donor lounges, changing rooms, and bathrooms.

Youth | UN-Habitat to construct a youth centre in Baidoa

UN-Habitat held a groundbreaking ceremony for the construction of a youth centre in Baidoa, South West State of Somalia.

One-stop youth centres are the result of a partnership between UN-Habitat and local governments. They operate on a principle of an integrated approach to youth development, providing youth with safe spaces in urban settings where they can meet and access information and resources critical to youth-led development, including peacebuilding, research, and policy development. The government of Sweden funds this initiative.

Durable solutions | UNHCR hands over 88 transitional shelters in Dollow

In Dollow, Ladaan, internally displaced persons (IDP) camp, southern Somalia, the Office of the United Nations High Commissioner for Refugees (UNHCR) handed over 88 emergency transitional shelters to vulnerable displaced families. The project is implemented by UNHCR partner African Volunteers for Relief and Development (AVORD).

As the effects of climate change, persistent insecurity, armed conflict, extreme poverty, and soaring food prices intensify, the resilience of the displaced families erodes, increasing their vulnerability to shocks.

UNHCR will continue providing life-saving assistance and durable solutions such as transitional shelters to those in most need across Somalia.

Prison reform | UNODC supports prison system's compliance with human rights

In December, as part of its mandate to assist Somalia's prison system compliance with human rights and UN standards, the United Nations Office on Drugs and Crime (UNODC) supported the development of the Parole Policy in Hargeisa, the rehabilitation works in the Berbera Central Prison and vocational training for female prisoners in Gabiley. UNODC also facilitated visits to the Garowe Central Prison and the Mogadishu Prison and Court Complex, where the International Monitoring Committee assessed the prisoners' living conditions.

Migration | IOM supports photography exhibitions in Hargeisa

A one-week photo exhibition titled 'Where life takes us' welcomed viewers in Hargeisa around the International Migrants Day celebrated on 18 December. The exhibition featured stories of migrants and returnees across the Horn of Africa region. The photography exhibition aimed to inform the public about the challenges that push people to move to the Horn of Africa whilst highlighting the unique role that migrants play in social and economic development. The stories, collected across three years with the support of the International Organisation for Migration (IOM), also offered a window into the migration dynamics in the region. As part of the exhibition, IOM also hosted a one-day storytelling workshop with returnees and students from Hargeisa University to foster cohesion through participatory exercises to provide them with a space to express their thoughts and feelings about migration in a safe manner.

Emergency | FAO supports hard-to-reach rural communities with cash

In Somalia, communities in hard-to-reach rural areas suffer the brunt of natural shocks such as droughts. Interventions are scarce in these areas forcing the communities to migrate to urban centres, hoping to receive aid or find ways to sustain themselves.

Food and Agriculture Organisation (FAO) and the United Kingdom supported thousands of vulnerable families with emergency cash transfers, targeted at some of the hardest hit and most difficult-to-access areas of Southern Somalia, such as Beletweyne, Afgoye and Xurdur districts.

"This drought is a long one. It has affected our livelihoods enormously, and some of the people in the village fled to urban centres," said Amina Mohamed from Qoydo village, Beletweyne, one of the vulnerable community members who received the unconditional cash transfer under this project.

16-Days of Activism | UN Women advocate against gender-based violence

UN Women Somalia spearheaded the 16 Days of Activism against Gender-Based Violence campaign under the theme "Unite to end violence against women and girls" to strengthen and galvanise gender mainstreaming in Somalia. This year, during the campaign, men and women championing women's rights have committed to increasing advocacy efforts to prevent violence against women and girls.

UN Women Somalia supported businesswomen and owners of small businesses such as restaurants, handicrafts and tailoring by giving them a platform to exhibit their products and skills and meet and showcase their ideas with the international community.√

Vaccinations | UNICEF vaccination campaign reached 3 million children

In November, the Ministry of Health and Human Services, World Health Organisation (WHO) and United Nations Children's Fund (UNICEF) conducted an integrated nationwide campaign that resulted in vaccinating over 2.3 million children aged 6 – 59 months against measles to prevent disease outbreaks that are more frequent during droughts such as Somalia is experiencing. During the 5-day campaign, 2.6 million children received vaccinations against polio, vitamin A supplementation and deworming medication.

The campaign comes against a backdrop of drastically increased measles cases in 2022 (16,880) compared to 2021 (7,494). For the November campaign, UNICEF delivered over 3.5 million doses of measles and polio vaccines and over 3 million doses of vitamin A and deworming tablets while providing technical support to the Ministry of Health on cold chain and vaccine management. UNICEF also supported the social mobilisation network (SOMNET) to accelerate awareness of the campaign and increase vaccine uptake.

Human rights | UN observes Human Rights Day

In a statement marking the Human Rights Day 2022, the UN Deputy Special Representative, Anita Kiki Gbeho, said that Somalia has, and continues to make significant achievements to promote and protect human rights, including those rights enshrined in the Provisional Constitution, which guarantees rights and freedoms for all Somalis. The United Nations in Somalia remains committed to supporting Somalia's efforts to promote and protect human rights for the benefit of the Somali people. Read the complete statement here.

As part of activities marking Human Rights Day, the Somali Youth Civic Organisation (SYCO) organised panel discussions in Mogadishu, Afgoye and Beledweyne. Supported by the UN, the events brought together some 150 women, men, elders, youth, persons with disabilities, minority groups and business community representatives who discussed critical challenges in promoting human rights in Somalia.

Participants highlighted the importance of finding ways to prevent human rights violations; they discussed the role of the government, civil society, and international bodies in improving the situation of human rights in Somalia.
UN entities involved in this initiative
FAO
Food and Agriculture Organization of the United Nations
IOM
International Organization for Migration
OCHA
United Nations Office for the Coordination of Humanitarian Affairs
UN Women
United Nations Entity for Gender Equality and the Empowerment of Women
UNHCR
United Nations High Commissioner for Refugees
UNICEF
United Nations Children's Fund
UNICRI
UN Interregional Crime and Justice Research Institute
UNSOM
United Nations Assistance Mission in Somalia