Story
A round-up of activities of the UN system in Somalia in October 2022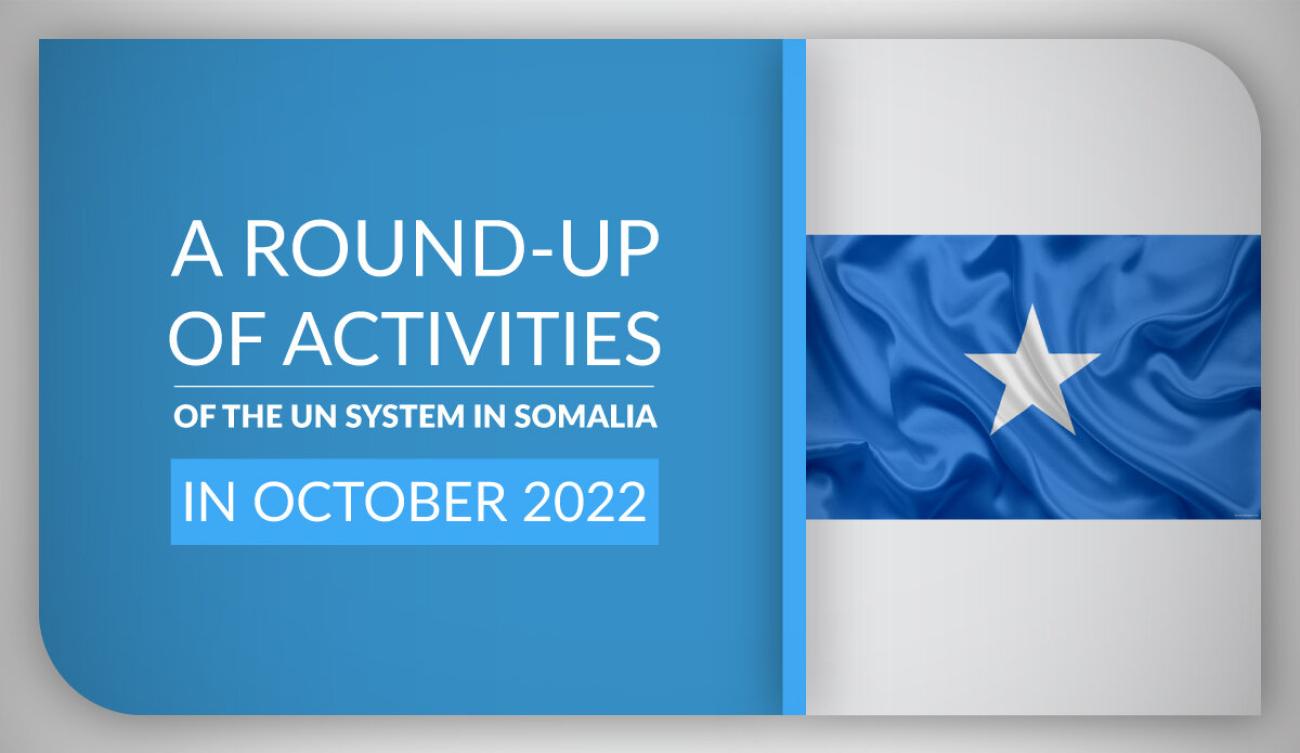 Highlights of activities of the UN in Somalia in the month of October 2022.
Drought | OCHA leads funding revision for response plan

OCHA took a lead role in the revision of targets and funding requirements to align Somalia's 2022 Humanitarian Response Plan (HRP) and Drought Response and Famine Prevention Plan, which were subsequently endorsed.

The updated 2022 HRP requires $2.26 billion and targets about 7.6 million people across Somalia, an increase of $800 million on the initial HRP target announced in January of $1.46 billion for about 5.5 million people.

Around $1 billion is needed to address the most pressing needs from December 2022 into early 2023. In addition, OCHA is in the process of allocating $17 million from the Somalia Humanitarian Fund (SHF) for immediate response efforts for communities at risk of famine, particularly in hotspot areas in Bay, Bakool and Mugug/Galmudug regions.

Drought | WFP sustains massive food and nutrition relief scale-up

WFP sustained its unprecedented scale-up of life-saving humanitarian assistance across Somalia, racing against time to avert projected famine amid the drought crisis.

From the start of October, the organization delivered life-saving food and nutrition to more than 4.5 million people. In recent months, WFP has been reaching more Somalis with urgently-needed humanitarian relief than ever before.

WFP has also been continuing to work with the government, UN humanitarian agencies and other partners to push further into the hunger hotspots where access remains a challenge - including areas of rural Baidoa and Burhakaba, in the country's centre, where the threat of famine is most immediate.

Capacity building | UNODC opens new training facility for maritime police

UNODC's Global Maritime Crime Programme held the opening ceremony of the new Maritime Police Training Center in the Aden Adde International Airport area in the capital, Mogadishu. The US-funded training facility will enhance the capacity-building initiatives of the Mogadishu Maritime Police Unit to develop maritime law enforcement capabilities across Somalia.

During the ceremony, Commissioner Abdi Hassan Mohamed expressed his appreciation to the government and people of the United States of America for their assistance to the Somali people, and to UNODC for the strong partnership and support provided to the country's maritime law enforcement agencies.

Domestic revenue | UN-Habitat leads property registration exercise

UN-Habitat completed a state-of-the-art water project as part of project that will lead to a permanent solution to the water scarcity problem in Hargeisa, Somaliland.

The Hargeisa Urban Water Supply Upgrading Project (HUWSUP), which was recently launched by the President of Somaliland, Muse Bihi Abdi, was jointly funded by the European Union, the Somaliland Development Fund, UN-Habitat and the Somaliland Government, and implemented by UN-Habitat and the Hargeisa Water Agency.

Within the HUWSUP project, 16 boreholes, four of which were supported by UN-Habitat were sank in Geed Deeble, a well field area located 23 kilometres from Hargeisa. A double-chamber water reservoir was also constructed to hold water collected from the boreholes and wells before pumping, and a new pumping station, installed with modern pumping equipment and power generators, was also set up. Furthermore, a 23 kilometre pipeline was installed from the well field area to water reservoirs in Hargeisa, bringing more and cleaner water to the capital and into the municipal system.

The aim of the project is to upgrade Hargeisa's outdated water production and transmission system with new augmented infrastructure and provide the foundation for improved water access for the entire population of the city.

Drought | FAO briefs global media on worsening situation

Briefing reporters at a press conference held at UN Headquarters in New York, the FAO Representative in Somalia provided an update on the country's worsening food security and the looming famine.

"The increasing drought situation in Somalia has brought the country on the brink of famine. The country is facing the worst drought in over four decades after four consecutive rain seasons failed, affecting half of its population," Etienne Peterschmitt said.

"The window for famine prevention is closing very fast," Mr. Peterschmitt added. "We have 300,000 people facing famine-like conditions, and approximately half of them are in rural and hard-to-reach areas… we must not wait for a famine declaration to act."

Obstetric Fistula | UNFPA supports fistula repair campaign

UNFPA supported medical procedures that involved more than 80 women undergoing successful fistula repair operations in the cities of Mogadishu and Garowe.

The UN agency did this in collaboration with Physicians Across Continents and the federal Ministry of Health and its counterpart in Puntland, with the procedures being part of a broader campaign on obstetric fistula repair.

Fistula continues to afflict Somali women and girls, especially those that have undergone female genital mutilation or lack access to proper health services, according to UNFPA. It adds that fistula impacts every aspect of the women's lives, including their health, wellbeing, dignity, and personal and social relations.

UNFPA is also scaling up its capacity to provide access to comprehensive emergency obstetric care, treat fistula cases and address the underlying health, socioeconomic, cultural and human rights determinants with the aim to eliminate fistula.

Media development | UNDP-backed outlet's reporting spotlights HIV

Bilan Media, Somalia's first all-women media team, broke new ground for Somali media by publishing the first in a series of stories looking at the lives of people living with HIV across the country.

The UNDP-backed outlet's reporting was broadcast on television and radio by the Dalsan Media Group and seen more than 240,000 times online in the first 24 hours.

Spanish and English versions are being published in Spanish news outlet El Pais, one of several top-tier media – including the United Kingdom's The Guardian and BBC – which are commissioning content from Bilan.

The reporting has ignited a debate around how people living with HIV are treated in Somalia, with most of the 2,000 comments online so far calling for greater support.

Bilan's reportage is the latest in a line of stories shining a light on social issues that are normally ignored. Other recent reports that have sparked public debate include features on child mothers and a rise in drug use among women in Mogadishu.

Mine Action | UNMAS releases cleared land in Gedo region

UNMAS released land cleared of mines to the community of the Kabaaso village, a little-known farming settlement in the Gedo region of Jubaland in southern Somalia.

The UN agency's clearance teams removed more than 200 explosive ordnance items, which constituted a deadly threat to the livelihoods of civilians living and rearing livestock. The cleared land will help Kabaaso community members safely resume their farming ventures.

In addition, the cleared land will also accommodate a burial site for the communities which had to pay for burial spaces in other villages until now.

Simultaneously, the communities of Kabaaso and neighbouring ones received risk education to encourage safe behaviour when visiting nearby areas suspected to be contaminated with explosive ordnance.

Drought | UNICEF steps up nutrition response

With famine projected in parts of Somalia – namely in Baidoa and Buurhakaba, in Somalia's South West State – UNICEF and its partners have stepped up efforts to find and treat children with acute malnutrition.

More than 98,000 children in internally displaced settlements around Baidoa were screened, out of which some 11,000 children were found to be suffering from severe acute malnutrition.

A task force was immediately established to follow up the children and put them on treatment, and each partner was assigned an area and tasked to provide UNICEF with weekly updates on admissions. As a result, 8,000 children with severe acute malnutrition were admitted into the treatment programme.

The task force and other partners recognize the need to improve outreach services to the camps for internally displaced people and have increased the weekly visits of the mobile teams from one to three.

Drought | UNHCR chief visits drought-affected areas

The UN High Commissioner for Refugees, Filippo Grandi, visited Somalia and saw first-hand the dire situation that many Somalis are facing due to the worsening drought.

His visit included stops in Mogadishu and Galkayo, in central Somalia. In Mogadishu, the High Commissioner met President Hassan Sheikh Mohamud. They discussed UNHCR's response to the drought, including finding solutions for the displaced populations.

While in Somalia, the UN High Commissioner also called on world leaders to scale up support to fight the worsening drought and avert famine.

Drought | New IOM project to provide long-term solutions

With the World Bank and the Federal Government of Somalia, IOM launched a new $20 million project to tackle the pressing needs of 71,000 displaced and vulnerable people who have been affected by the country's historic drought and a deepening hunger crisis.

The project will provide emergency relief and enhance abilities to recover and adapt through long-term housing solutions and infrastructure development.

Infrastructure | UNOPS supports improved access in urban areas

Somalia's cities are rapidly growing as conflict and natural disasters – including floods and drought – drive people from rural areas into urban ones. This rapid population growth can strain basic infrastructure and services.

Funded by the World Bank and its partners, UNOPS is implementing the Somalia Urban Resilience Project - Phase II (SURP-II), which aims to strengthen public service delivery capacity of local governments, increase access to climate-resilient urban infrastructure and services, and provide immediate and effective response to crises and emergencies.

The project is being implemented in the cities of Baidoa, Belet Weyne, Dhusamareb, Garowe, Kismayo and Mogadishu.

"SURP-II provides priority climate-resilient urban infrastructure while strengthening municipal governance by channeling all the funds through the country systems," according to a Senior Urban Specialist of the World Bank, Makiko Watanabe.

Police | UNODC brings together police for criminal investigation conference

To enhance criminal investigation development and cultivate effective cooperation across borders, UNODC brought together senior officials and heads of Criminal Investigation Departments and Units from across Somalia to a conference in Mogadishu.

The activity fell within the partnership UNODC has with the Somali authorities and the US Department of State's Bureau of International Narcotics and Law Enforcement Affairs, centred on the Criminal Investigation Programme (CIP), which aims to strengthen the criminal investigative capacity of Somalia's Police Force and, as a consequence of that, improve safety and security across the country.

According to UNODC, increasing incidents of violence against women and children, including sexual offenses, are complex crimes to combat. Approximately 25 per cent of all crimes investigated by investigators trained under CIP have been sexual or gender-based violence and 80 per cent involved child victims.

UN Day | Top UN officials highlight support and collaboration

In observance of United Nations Day, the world body's top officials in Somalia took the opportunity to underscore its commitment and close collaboration in supporting the country's people and government in a range of strategic areas.

"As we see around the world, and here in Somalia as well, the values and the significance of the United Nations have never been more important," the UN Secretary-General's Special Representative for Somalia, James Swan, said at a virtual press conference in Mogadishu.

"Our strategy is codified in the UN Sustainable Development Cooperation Framework for Somalia. This document is fully aligned with and, indeed, signed by the Somali government," he continued. "This document matches up to the National Development Plan of the Somali government so everything that the United Nations is doing here in Somalia is intended to support and advance objectives that have already been identified by Somalia's leaders."

At the press conference, Mr. Swan was joined by the UN Secretary-General's Deputy Special Representative for Somalia, Anita Kiki Gbeho; the Head of the UN Support Office in Somalia (UNSOS), Assistant Secretary-General Lisa Filipetto; the Representative and Country Director of the UN World Food Programme (WFP), El-Khidir Daloum, also serving as the acting Humanitarian Coordinator for Somalia.
UN entities involved in this initiative
FAO
Food and Agriculture Organization of the United Nations
IOM
International Organization for Migration
UN-Habitat
United Nations Human Settlements Programme
UNDP
United Nations Development Programme
UNFPA
United Nations Population Fund
UNHCR
United Nations High Commissioner for Refugees
UNICEF
United Nations Children's Fund
UNMAS
United Nations Mine Action Service
UNODC
United Nations Office on Drugs and Crime
UNOPS
United Nations Office for Project Services
UNSOM
United Nations Assistance Mission in Somalia