Story
"Time to act is now," says UNICEF Emergency Director on visit to Somalia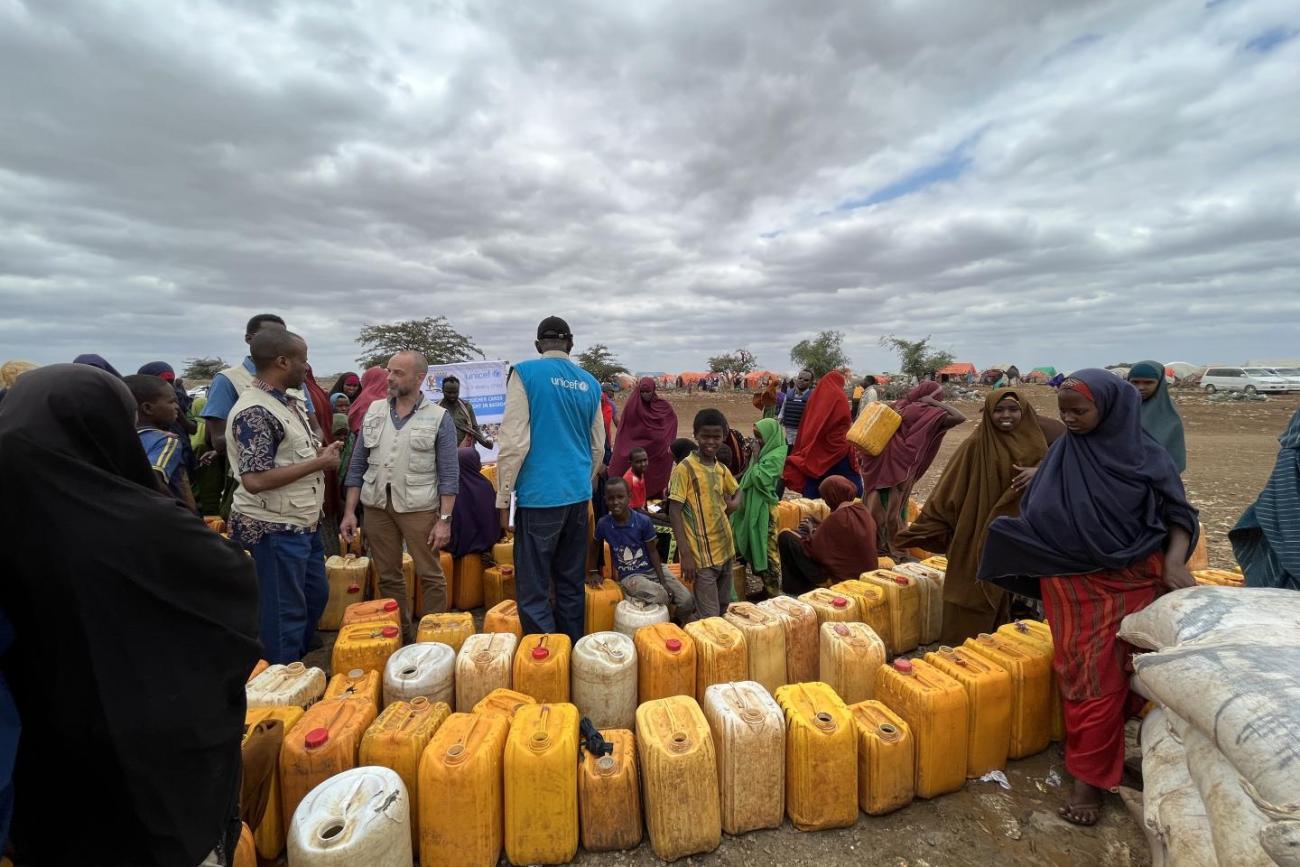 Meetings with internally displaced persons and children at UNICEF-supported health and nutrition centres reveal the number of admissions are swelling.
Baidoa, South-West Somalia - Amid the wailing of children and the huddle of mothers cradling infants at the makeshift Health and Nutrition centre at the Moqor I Mayow camp for internally displaced persons (IDP), one story catches the attention of Manuel Fontaine, UNICEF's Emergency Director.
It is of a woman named Awa Abdi and her one-year-old son Abdullah Ali.
"When Ali got very sick, we could not find any doctor or medical service in our village," says Awa, with little Ali. "So to save Ali's life, I had to leave my four older children with my relatives and come here."
The trip to Baidoa wasn't easy or quick. Over two days, Awa and Ali travelled more than 100 kilometres, across the vast parched landscape ravaged by drought and which has displaced millions of people, seeking water and food for themselves and their livestock.
"Finally after two days, my son was able to get help," says Awa to Manuel through a translator, her bright eyes twinkling warmly.
In Baidoa, Manuel was also accompanied by Margot van der Velden, Head of Emergencies for World Food Program and Wafaa Saeed, UNICEF Representative in Somalia.
Little Ali was diagnosed with severe acute malnutrition and referred to the stabilization centre – and that was three weeks ago. Ali is very lucky and arrived at the facility just in time and is now making a slow recovery.
However, as Manuel spoke to other mothers at the health centre he learned that Awa and Ali were not the exception, but the norm.
"Many of the women told me that they had no other option but to leave their homes and come here to receive help. I heard of many mothers who even lost some children along the way," said Manuel after visiting the Health and Nutrition centre at the Moqor I Mayow IDP camp.
Due to climatic changes, South-West Somalia, including the larger Horn of Africa region has been gripped by a severe dry spell over the last four years with four consecutive failed rainy seasons. Coupled with the ongoing conflict, the dried wells and depleted water sources have destroyed crops and killed livestock and displaced almost one million Somalis nationwide.
UNICEFSomalia/Giri
UNICEF Emergency Director meets with women and young children at a health centre in Moqor I Mayow IDP camp.
Many of these people have converged on urban centres across the region, including the town of Baidoa, which now hosts more than 400 informal IDP camps, according to Deegroor Medical Organization, a UNICEF partner.
"We are here on the ground every day, working with partners to support life-saving emergency services for children and their families, and I see that everyone who can come (to this facility) is able to get help. I am concerned about those families and children who are out there and who cannot access health and nutrition services when they need it most," said Manuel.
UNICEF Somalia is supporting line ministries and has strengthened partnerships with other UN and non-governmental agencies to provide a package of integrated services. This includes clean water through emergency trucking and construction of new boreholes. UNICEF also trains health workers and provides medical equipment, lifesaving medicines and therapeutic foods to fight malnutrition, and supports to educational institutions to accommodate IDP children.
Additionally, UNICEF and partners are also working to prevent gender based violence (GBV) and protection of children from abuse and harm, through the establishment of a 24/7 hotline telephone, and referral and treatment centre for victims of GBV, including the Ceebla One Stop Centre at the Baidoa, Regional Hospital.
UNICEFSomalia/Giri
Dr. Asho Mohamed (L) explains how she provides support to victims of domestic violence and rape at the Ceebla One Stop Centre in Baidoa Regional Hospital.
However, the Under-Secretary-General for Humanitarian Affairs and Emergency Relief Coordinator in Somalia Martin Griffiths warned receenlty that 'famine is knocking at the door' and that parts of South central Somalia could face famine between October and December this year.
The high prices of basic food items due to the Ukraine crisis and the insecurity from the ongoing conflict within Somalia, could sharply increase the number of families requiring humanitarian services.
"UNICEF already has a strong and committed team on the ground. And now is the time to act, utilizing our existing partnerships including with community based organizations - to redouble our preparedness, supplies and response mechanisms to support the children and women of Somalia," said Manuel.
On the ground UN agencies including UNICEF and partners and humanitarian organizations are scaling up resources, materials, and staff as they scramble against time to reach the most vulnerable, and to try and mitigate the worst of the looming famine facing the people of this region.
UNICEF thanks the European Commission Humanitarian Aid & Civil Protection (ECHO) and USAID's Bureau for Humanitarian Assistance (BHA) for supporting nutrition programmes in Somalia.
UN entities involved in this initiative
UNICEF
United Nations Children's Fund