Story
Empowering Youth Across the Nation Using Soft Skills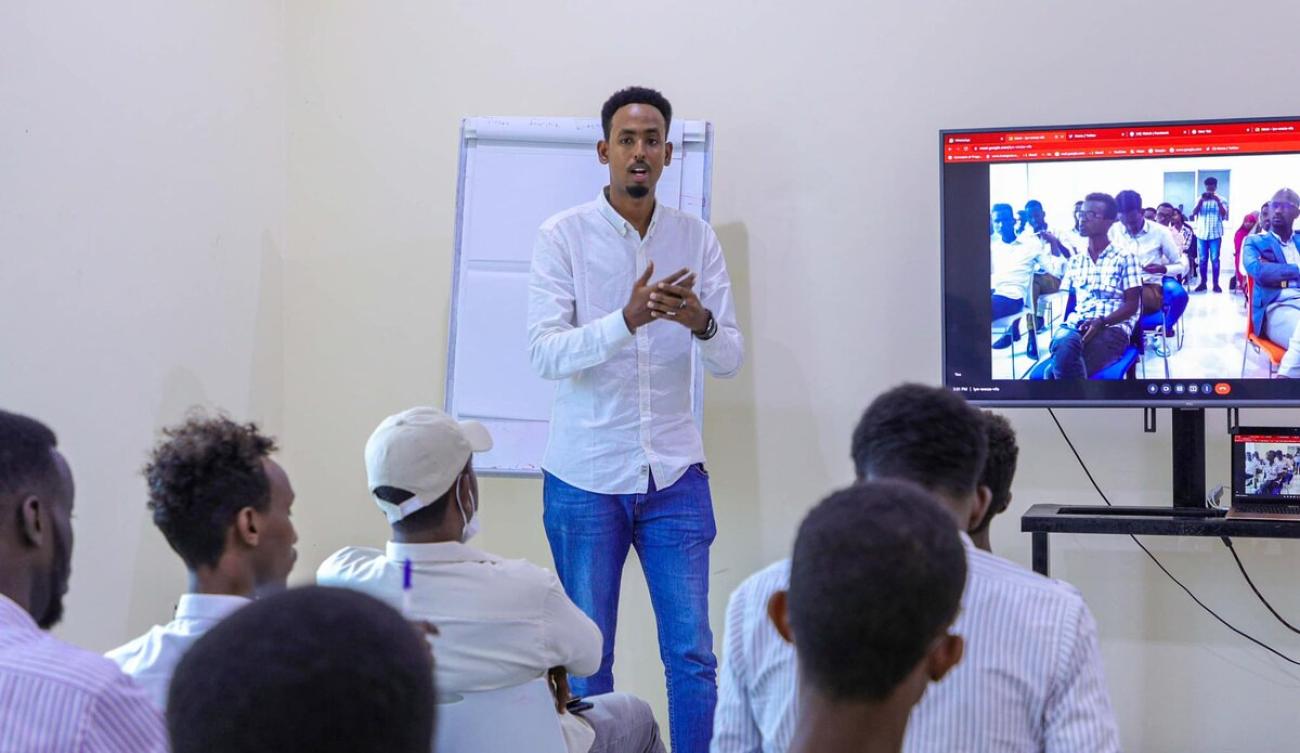 UNFPA in partnership with Somali Lifeline Organization offer soft skills training for job seekers in Somalia.
Somalia has one of the highest youth unemployment rates in the world at a staggering 67 per cent among 14–29-year-olds. Disconcertingly, the International Labor Organization (ILO) report that only 40 per cent of Somali youths are actively looking for work.
In the month of June, and together with Somali Lifeline Organization (SOLO), UNFPA carried out a soft skills training for job-seeking youth in Kismayo, Somalia. The training aimed to equip jobseekers with skills to navigate the job market, such as how to write a CV, conduct a successful interview, and engage in problem-solving and networking.
25-year-old Raaziqa Mohamed Hassan is among the youth who are struggling to find work, and she strongly believes that soft skills are becoming more important for competitive advantage in business.
"I have been looking for job opportunities since I finished my diploma at Kismayo University. I participated in a soft skills training by UNFPA and SOLO and it really helped me improve my competence and communication skills. I learned how to write a good CV and received tips on how to develop good proposals", she said. "Soft skills are crucial when looking for a job and equally important after securing a job. Another important thing I learned from the training is that teamwork is key when working with others to improve critical thinking and problem-solving", she added.
Most educational institutions and NGOs in Somalia invest in technical trainings; however, the reality is that investing in soft skills for youth may have a greater impact on the overall success of employment.
Abdiqani Mohamed, a soft skills consultant from the Ministry of Youth and Sport (MOYS) in Jubaland, believes that workers with strong soft skills have a better chance of being promoted in a company or institution, compared to an employee with more professional experience but weaker soft skills.
"These kinds of skills give youth more freedom and confidence in making choices. Critical thinking and problem-solving also help jobseekers or newly appointed workers embrace and welcome new challenges", said Abdiqani.
"During the hiring process, soft skills are what help them to be successful in getting the role. Soft skills training is crucial to create better candidates", he added.
Carrying out soft skills trainings with the support of Implementing Partners (IPs), such as the training conducted by SOLO in Kismayo, is one example of the type of activities UNFPA undertakes to support youth across Somalia. "UNFPA also works with the government and key stakeholders to support policies and programmes that provide holistic learning and development, active citizenship, and empowerment of youth to fulfil their potential in shaping a prosperous and peaceful Somalia", says Niyi Ojuolape, UNFPA Somalia Representative.
In 2020, UNFPA signed a cooperation agreement with the European Union delegation to Somalia to implement the Inclusive Local and Economic Development (ILED) project for the socio-economic empowerment of youth, aiming to build peace, mitigate radicalization, and contribute to stability in Somalia by improving opportunities for youth to engage in peacebuilding, skills development, income generation, entrepreneurship, sports, and culture. In order to create a sense of local ownership and relatedness, the project was named the Dalbile Youth Initiative, translating to A Striving Nation Youth Initiative.
UNFPA has since achieved great and noticeable results in the social-economic empowerment for Somali youth. The progress and achievements made are further supported and enhanced by implementing design thinking bootcamps; entrepreneurship, social enterprises, and financial literacy/management trainings; and mentorship for youth across Somalia.
In the first year of implementing the EU-funded Dalbile Youth Initiative, a total of 1,569 young people, including 800 males and 769 females, were reached with capacity building. In addition, a total of 68 financially promising start ups were awarded grants across Somalia to initiate their business models and concept. By including a component of social enterprise in the project, UNFPA also supported youth in implementing four community-based initiatives in Banadir, Jubaland, Puntland, Southwest, and Somaliland. Aiming to improve and expand safe spaces for youth across Somalia, the project included a plan to renovate and improve already existing youth centers in Mogadishu, Hargeisa, Bossaso and Kismayo, where youth can not only access youth-friendly, and much needed, Sexual and Reproductive Health (SRH) services, but also information on development initiatives and youth-friendly activities and training courses, creating an enabling environment where youth can be safe, learn, interact, and share information and ultimately contribute to and be part of developing Somalia: A Striving Nation.
UN entities involved in this initiative
UNFPA
United Nations Population Fund